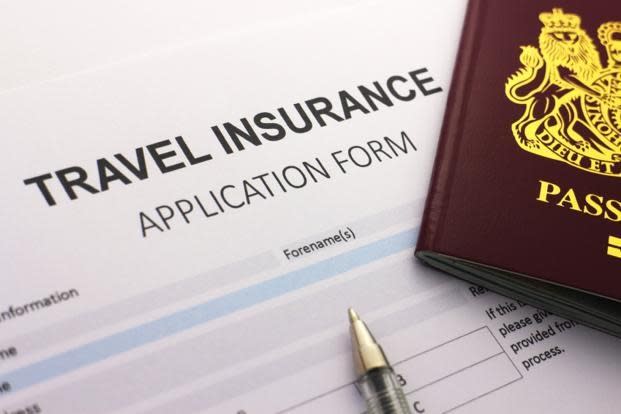 Before every holiday I have the same exchange with my husband.
'Do we have travel insurance?'
'I think so, I'm sure we have it as part of our credit card benefits'.
'Are you sure? Can you check?'
'No, you're right, we only have travel insurance if we've booked it all using the credit card.  Which we haven't'.
For some reason I never just pay up for an annual family travel insurance policy and end up buying a separate one for each trip.  My New Year's Resolution is to finally sort this out once and for all.
Now, I do have a separate health insurance policy which covers us everywhere except the US.  So essentially my travel insurance is a top up to that, to cover things like loss of personal possessions, travel cancellation, delayed baggage and also medical coverage for the US.
Travel blogger, Nomadic Matt, says to look for the following in your policy:
Cover most countries in the world
Some coverage for your electronics (and have the option for a higher coverage limit)
Cover injury and sudden illnesses
Twenty-four hour emergency services and help (you don't want to call to be told to call back later)
Cover lost, damaged or stolen possessions like jewelry, baggage, documents, cameras, etc.
Cover cancellations such as hotel bookings, flight, and other transportation bookings if you have a sudden illness, death in the family, or some other emergency
Cover emergencies, strife in the country visited, etc., that cause you to head home early
Should include personal accident coverage
Have financial protection if any company you are using goes bankrupt and you are stuck in another country
On average I have been paying around $400 HKD (approx. $50 USD) per trip on travel insurance. Given we do about 6+ trips per year, an annual policy is certainly worthwhile.
So… I took to the internet to get some quotes for Hong Kong and here's what I found:
World Nomads $3,629.50 USD (and it didn't help their website kept going down)
AXA Single Trip $430 HKD (couldn't find an annual option)
HSBC Travel Insurance Single Trip $635 HKD (annual $4082 HKD)
Zurich -annual Silver $2700 and Bronze $1800 
DirectAsia Single Trip $328 HKD (annual $2700 HKD (the $1900 option was far too basic))
ACE Single Trip $296 HKD for standard basic or $385 (annual $2325)
Then I thought, why am I doing this when there must be a travel insurance quote site that can do this for me.  I found MoneyHero, plugged in all my details and it gave me some more options.
Through MoneyHero I found a quote from FWD who had a decent annual plan for $2210 HKD = 500 baggage delay, 3000 loss, 2000 personal money,  They also showed the same quote I got from ACE above at $2325.
I started to wonder… do I really need travel insurance?  I came across this interesting article from Lifehacker who says "As with other insurance policies, buying travel insurance (or not buying it) is a gamble. You don't want to ever regret not buying the insurance, but you also don't want to pay for something you don't need".  
Hmmmm
Then another interesting read from CheatSheat with the following quote from Bob Hunter, director of insurance at the Consumer Federation of America: "travel insurance is often not worth the price. "Don't buy insurance that covers small, manageable losses or only a slice of risk," he explained. Consumer protection laws, in some cases, may help you if you are traveling without insurance or have gaps in coverage."
The moral of the story is, I still haven't bought any travel insurance (but dad if you're reading this, I promise I will!) I thought I might as well ask the good people who read my blog for their input.  Over to my friends!  
Any plans you recommend?  Have you ever had any trouble claiming on travel insurance?  Do you ever travel without it?