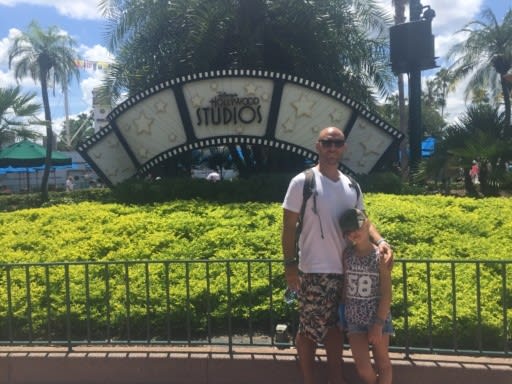 Rather ignorantly I had no idea that the MGM Studios I had visited as a child, was now rebranded to Disney's Hollywood Studios. It was only when I started doing my research on how to plan our day and what FastPasses+ to book, that I realised a few of the rides sounded awfully familiar….  Now Universal Studios is more a grander movie theme park. However, we had visited Universal Studios Singapore in recent years so felt that given our tight schedule in Orlando and the fact it was included in our Disney ticket, we should definitely visit Hollywood Studios.  We loved our day there but I know a few people who have left disappointed.  The trick is to pre warn your kids that this park is not all about the rides.  The focus is on shows and experiences with the odd ride thrown in.
How did we plan our day?
As we were staying in the Polynesian Village Resort, this meant we had access to 2 things;
extra 'Magic Hours'

FastPass+ booking 60 days out vs 30 days for other guests
Now if you are not a Disney guest, you may want to avoid Magic Hours days like the plague. The parks will be even busier than usual and you won't have had the extra hour to enjoy it. For us it meant we could get into the Park from 8am rather than the usual 9am public opening.  Well worth waking up early for as we had most of the park covered by about 10am! As a general note, If you've got young kids, going early to the parks are definitely worth it. You will get on the rides quickly and if you're there in summer, the temperatures aren't as insane.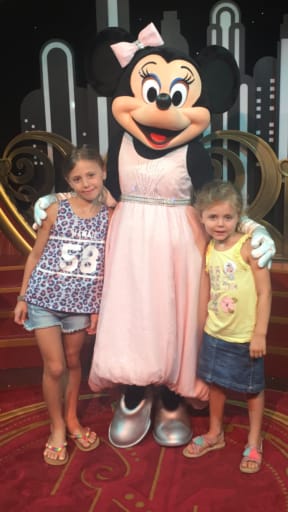 What FastPasses+ should I aim for?
Similarly to Epcot, Hollywood Studios has a tiered FastPass+ system. You can choose one attraction from Group A and two from Group B.  There are plenty of helpful websites which talk you through how to structure your day. In general you want to have your FastPasses+ from around 10.30 – 1pm.  As soon as you have completed all your FastPasses+ you are then eligible for another.. and then another.. etc
I chose Toy Story Mania from Group A (highly recommend you do this as the queues can get insane!) and Frozen Sing-A-Long and Voyage Of The Little Mermaid from Group B.
How did we get to Disney's Hollywood Studios?
We caught the free Disney shuttle from the Polynesian Village Resort, which took about 25 minutes.  Whilst I was thankful it was free and we didn't have to worry about parking, you are at the mercy of waiting for the bus and also the time it takes to allow the mobility scooters on. I had planned for us to get there just before opening at 8am but in the end we arrived at 8.10am.  Note that from the car park it can also be quite a walk to the main entrance so bring your stroller if you need it.
How did our day go?
Thanks to the extended Magic Hours, the Park at 8am was relatively empty.  We ran straight to Star Tours, a 3D adventure ride with 40 inch height restriction. Save for my 5yo who thought it was a bit scary, we all loved it!  If are considering the Jedi Training, you will need to race into the park on opening and elbow your way to the front of the queue.  We didn't do it but saw most people aiming in that direction.  Disney Addicts has a useful blog post on how to score a spot on the training.
If you have older kids, you'll probably want to make a bee-line for the two thrill rides, Tower of Terror and Rock 'n' Roller Coaster.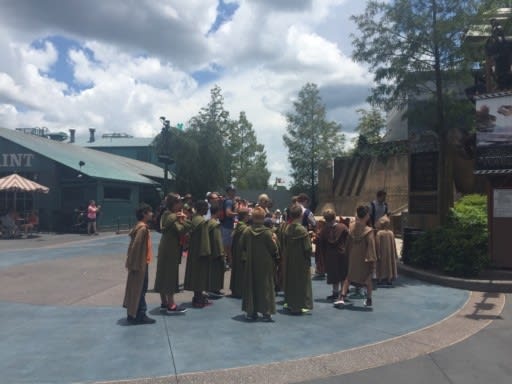 From Star Tours, we wandered over to the theatre for Muppet Vision 3D.  Unbelievable the show changed from my visit about 20 years prior!  Brilliant fun for all the family and at 8.30am we were pretty much the only ones in the Theatre.
It's always worth keeping an eye on the timings for the Meet & Greats (you can do this on your My Disney Experience app).  I hadn't got a FastPass+ for a Character Greeting so when I spied a queue opening up for the 9am meet at 'Red Carpet Dreams', I was delighted. You are ushered into two separate rooms, first to meet Minnie and then to meet Mickey.  Disney World officially completed!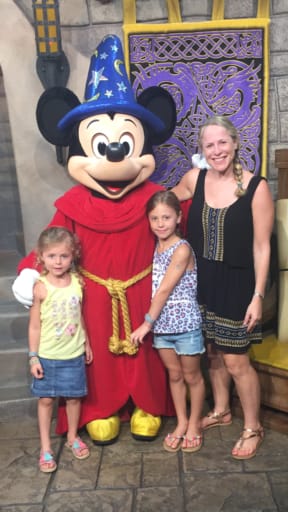 From the magic of Mickey, we walked to the Great Movie Ride. We had a long wait but they played films throughout the waiting area and the air con was welcome. Unfortunately there's no point me sharing too much about this ride as it closed as of August 2017 (possibly to do with the movie rights).
After lunch it was time for our FastPass+ show time for the Frozen Sing-a-long.  If you have a FastPass+ there's no point getting there any earlier as you have to wait to enter the auditorium and keep moving down to the far side.  Fastpass for Frozen Singalong. I had half expected the show to be a bit boring – basically lyrics on the screen. Yet it's so much more than that, mainly thanks to the comedic hosts. When the 'snow' comes down at the end, it's truly magical.  It will be interesting to see how they continue to capture kids interest in Frozen as it felt like the parents were more into the show than many of the children.
Following Frozen, we headed to our last FastPass+ for the day, Voyage of the Little Mermaid. This is a beautiful live action show, just under 20 minutes in length.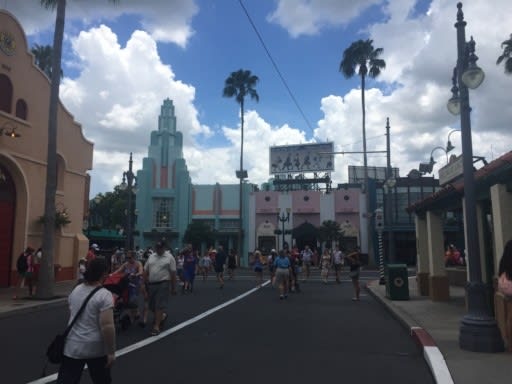 Where did we eat?
Thanks to the early start, we were all gasping for an early lunch.  We joined the queue for the mad rush at the opening of the ABC Commissary at 11am.  Think fast food, nothing special.
Final Thoughts on Disney's Hollywood Studios
I enjoyed Hollywood Studios but Jetlag & Mayhem moaned there weren't enough rides.  As mentioned earlier, it's worth explaining that it's more about the shows although Toy Story Land is due to open 2018 and Star Wars in 2019.  
Keep an eye on the daily events. If you are into Star Wars there's lots on offer.  The March of The First Order with the Stormtroopers and Captain Phasma is awesome (although a little scary for Miss Mayhem).
In general Hollywood Studios has an easy, manageable feel to it. The sort of Park you could nail in two-thirds of a day and escape to the hotel pool.  If you're tight on time and you're weighing up Universal vs Hollywood Studios, you probably want to go with Universal for the wow factor and more rides.  If like me, you've got younger kids who aren't bothered either way and you don't want to pony up the extra $$ for another park, Hollywood Studios is still good fun.