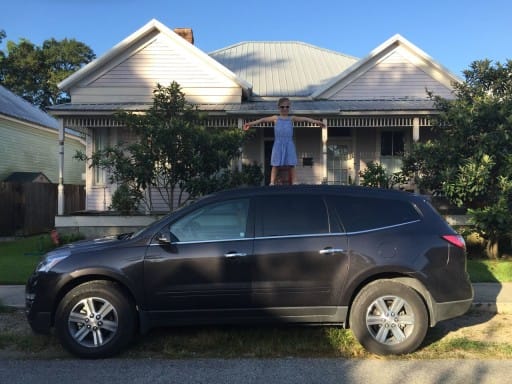 Renting a hire car abroad can be a painful process.  Particularly if you've come off a longhaul flight and have to wait an extra few hours to pick up the car.  We've had mixed experiences, our difficulty has come when there haven't been the correct child car seats available.  Whilst I can't promise these tips will fix every car hire situation, they should certainly help to make things a bit smoother.
Think about when you actually want to hire the car from. If you are landing in a city where parking is expensive and it's easy to get around with public transport, perhaps you want to pick up the car for when you get on the road? We did this in New Orleans on our Louisiana roadtrip. Whilst it would have been more convenient to have the car on hand for trips that weren't in the city centre, it worked out far cheaper for us to save on the valet parking and walk around the city.  It can also be cheaper to rent a car from downtown as opposed to at the airport.

Following on from the above point, it can also be tough coming off a long fight and waiting around for the car rental at the airport.  What we have done the last few years is pick up in town.  This has meant I could wait at the hotel with the kids whilst my husband goes to collect the car and it doesn't matter how time-consuming this is.

Shop around to get the best rates for your car hire but do your research and check reviews.  It's likely that the bigger outfits will be slightly more reliable as they have a larger car selection and quicker turnaround time.  You can check multiple providers using an aggregator like holiday autos or go to the sites individually.

Find a car that will fit you comfortably with sufficient boot space.  On our US road trips, my husband's dream would be to hire an enormous F1 pick up truck but I often have to reel him in so that we can have a car that is more easy to park.

If you are a member of an airline loyalty scheme, check if there is an affiliation to a car hire company. My husband is a Diamond member of Cathay's Marco Polo Club which means (in theory) we should get an automatic car upgrade with Avis. That said, we have had times when we have picked up cars and rental staff have never heard of the Marco Polo Club, let alone this benefit.

After you get your online quote, always phone the car hire company directly and see if they can offer any further discount.  You may be pleasantly surprised!

If you are traveling with kids, don't forget to prebook your car seats.  Then keep phoning and reserving them and ensuring there's a note in the system for the few weeks leading up to your trip. If you really want to, you can bring your own car seats with you (obviously with infant seats that clip into a stroller, this is much easier). We have never done this and always relied on the car rental seats. We have had a few hiccups in seats being unavailable and having to wait an hour or so for one to be returned.  However, once installed, they have all been clean and sturdy.

Ensure your drivers licenses are up to date and you have all your documentation with you!

Stand your ground at the rental desk and try to avoid the upsell. Here are some great tips on how to avoid being ripped off, especially when it comes to excess insurance.

Bring your own sat nav or hire one! I don't know how we used to drive abroad without one 🙂

Before you drive off, inspect the car thoroughly for any scratches etc.  You don't want to be stung for someone else's bump!

Familiarize yourself with the car and have a good few laps around the car park before you head off, particularly if you are driving on a different side of the road.

Read up on Drivers Etiquette abroad!  Here is a handy guide, depending on where you're traveling. 

Make sure you know which type of fuel your car uses! Keep on eye on this before you return the hire car, most of the car rentals I've used, demand a full tank on return.