I think I've finally cracked comfort nirvana when flying longhaul overnight with kids.  I still don't enjoy it and I tend not to sleep that well but the most important thing is that Madames Jetlag & Mayhem do.  Here are a few tips and tricks from the inflatable flight cushion to a large glass of wine.
Please add your tips in the comments below!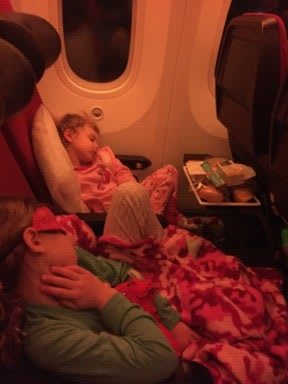 Seat allocation guidelines vary from flight to flight.  Certain airlines require payment for booking seats in advance, others will let you phone up and reserve for free, especially if you're flying with kids.  I book my flights from Hong Kong to London through a travel agent and he always seems to ensure we get decent seats. As one adult + two children it is relatively straightforward on Virgin Atlantic's Dreamliner as the economy seats are in a bank of 3.
If you haven't managed to select in advance, jump to online check-in from the first moment you can, with Seatguru in front of you as a guide. You don't want to be too near the toilets for the noise and queues but equally you don't want to be too far away if you are flying with kids. Where possible, select to be near a disabled loo as that will give you a bigger space to navigate with your kids (my girls are afraid of the flush on an airline loo and refuse to go in on their own).

Before you get on the plane, do a quick calculation factoring in your next time zone as to your optimum sleep time. It is not always easy to get everyone to adhere to a snooze but it's worth bearing in mind.  I like to maintain my watch to the original time but change the clock on my iPhone to local time.  I'm quite strict if we get onboard the plane at night and I've calculated that my kids should be sleeping. I don't allow them to start watching the onboard entertainment (despite their protests) and try to get them to sleep whilst the plane is dark on take-off. It doesn't always work out this way but bribery does work a treat!

Dress in layers and comfortable clothes.  I can't understand people who fly in jeans. Wear baggy everything and dress your kids in the same. Take a few spare tops with you in your hand luggage in case everyone vomits. Wear shoes that are also easy to take on and off.  Have your hoodies/cozy cardigans to hand as I find that onboard temperatures vary from tropical to arctic.

Have a think about all the things that you genuinely will need in front of you in the seatback pocket (be ruthless). Then put these things into several bags or another kind of organiser (I use the small pouches that come with packing cubes).  This means that when you get onboard with sleeping/misbehaving children you can easily put your hand luggage overhead and put your essentials in the seatback pocket.  Also you have to assume the annoying people in front of you will decline their chair so it's good to have everything you need e.g. eye mask, snacks, entertainment accessible.

Purchase an inflightable flight cushion. In the words of my friend, an absolute game changer when flying with kids. You can see the full review of my Fly-Tot here but the cushions are extremely useful in creating a 'bed' for your kids. I share one cushion for the two of my kids and I'll often rest my legs up on it too.

Another ingenious comfort contraption is the Fly Legs Up Hammock.  This packs up much smaller than the inflatable flight cushion above and is great for both adults and kids alike.  I tend to give my kids the Fly Tot whilst I'll use the Legs Up Flight Hammock.

Kids eyemasks are a relatively new discovery for me.  I always wear one but have always felt my kids are too young. At 7 and 4, they are now excited to wear an eye mask and it helps if you can buy them a really fun one.  I normally steal the Cathay Pacific business masks from my husband but this one's on my wish list.

My 7-year-old is the world's biggest seat hogger. I have to assume she'll take up the majority of our three seats whilst I am squished into a tiny slither.  This is why I cannot fly longhaul without my J-Pillow, the most comfortable neck pillow ever invented. It is particularly good for those who usually sleep on their front or side. Read the review here!If you are thinking of buying a J-Pillow, please do use my affiliate link! 
The cardinal rule of flying with kids is that you must SLEEP WHEN THEY SLEEP. Don't be tempted to watch that movie. You do not know how long the window will be. If you need a glass of wine or valium to help you do so, go for it.  But sleep.
For more tips on how to get to kids to sleep on a plane, check out my previous post