For the past 4 years we have spent our Christmases in various villas in Phuket.  This year we wanted to do something different and decided on Sri Lanka.  There aren't masses of villas in Sri Lanka so it pays to book early to have your pick. I stumbled across Olanda Beach House through this website and dealt with Vinod who was extremely helpful throughout the booking process.  You must be careful when booking a random villa you've found on the internet – make sure you call the agent and find out as much as you can to ensure it's not fraudulent.  It's also worth asking for reviews from previous visitors.
What do you get with the villa?
Our 5 bed villa cost USD $1375 per night.  Included in that is a team of 6 who did everything from cook, clean, laundry, villa maintenance, bring cups of tea etc. Bear in mind, we were there over the peak Christmas/New Year, if you were to visit during offseason you could probably rent it for half the price.
The villa comes with a chef who is absolutely OUTSTANDING. Not only did he make the most delicious local food, his Western food was out of this world. So much so that we rarely ate outside the villa. You can either pay the chef each day for the groceries he buys or fix a set some that he will go and spend. Either way it will also work out far cheaper to eat in the villa.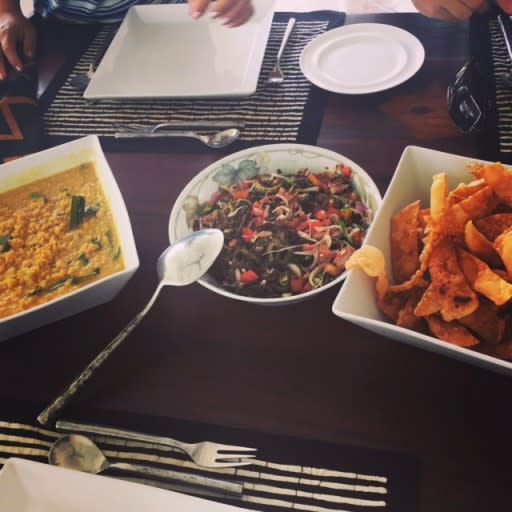 Meals are served in the open air dining room. They can also organise BBQs.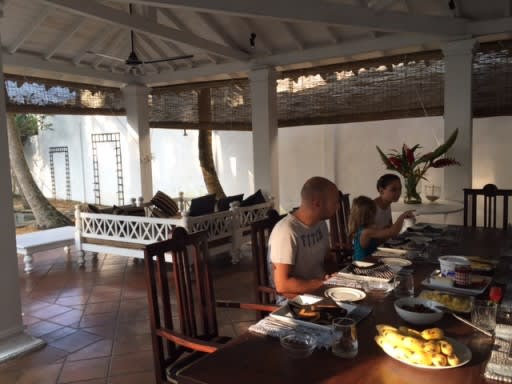 How many does it sleep?
Olanda has 5 bedrooms, all ensuite.  Four of the rooms are double and one has a twin bed.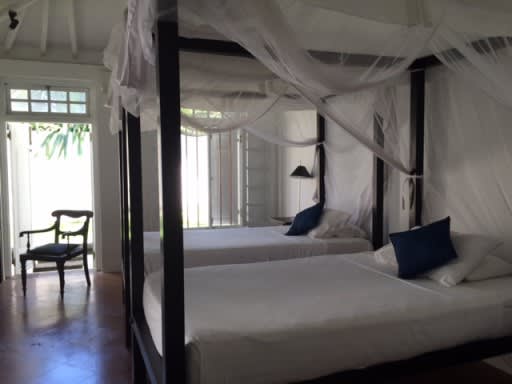 We were a group of 8 adults + 3 kids and it felt incredibly spacious.
Three of the bedrooms are in the main section of the house and all have outdoor bathrooms.  The Master has a bathtub which is useful for those with kids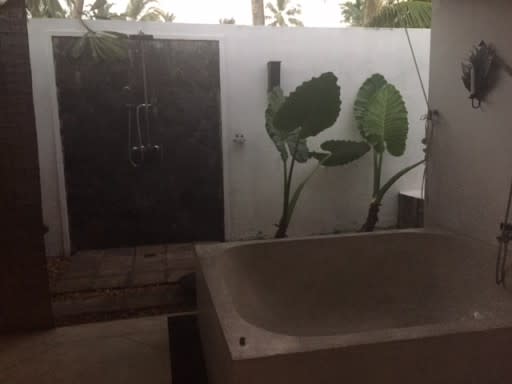 Two further bedrooms are housed in a separate building.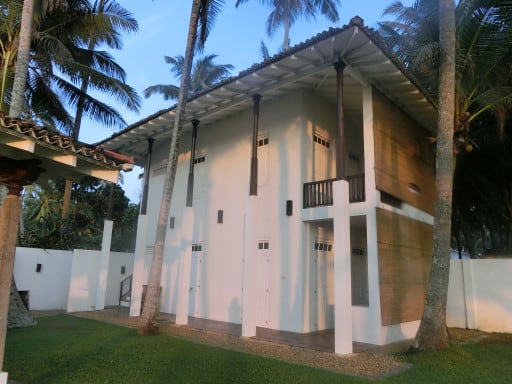 Both of equal size and with their own bathroom. The upstairs bedroom has a lovely balcony.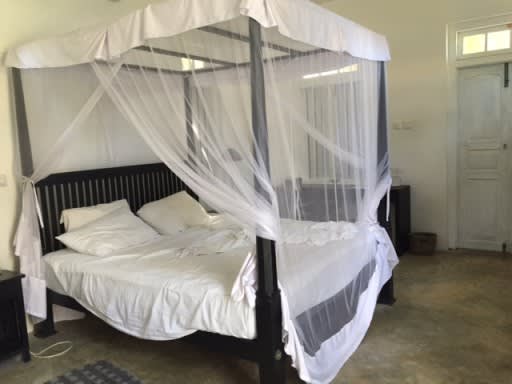 What baby/kid items are provided?
They are able to provide one travel cot and one high chair.  Bring everything else you need including toys. In general I think the villa is extremely child friendly.  I like the fact that most of the bedrooms are on the ground floor so you don't have to worry about balconies.  The pool also has a large shallow area, perfect for toddlers to splash around.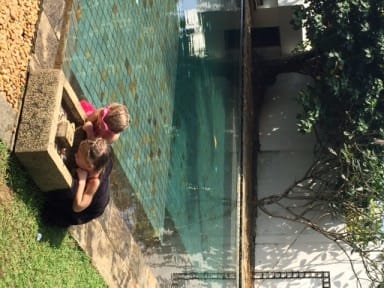 How is the location?
The villa is located in Thalpe, Galle, on one of the most beautiful stretches of beach I have ever seen. 
This area is extremely quiet so you really only get a few locals and tourists who are walking by.  Two doors down is Thalpe Beach restaurant, great for coffees and cocktails.  You are a 10 minute tuktuk ride to Unawatuna and about 20 minutes to Galle Fort.  There's a 'tuktuk rank' opposite the villa so it's very easy to flag down a tuktuk to head off on an adventure.
The villa is approximately 2-3 hours from Colombo airport.  I organised transfers through the villa rental company.
About the villa
Olanda Beach House consists of 3 buildings; the main house which contains a large living area, master bedroom with ensuite and two smaller ensuite rooms.  Another building contains an open air dining area, pool room and kitchen. The other building has two further ensuite bedrooms.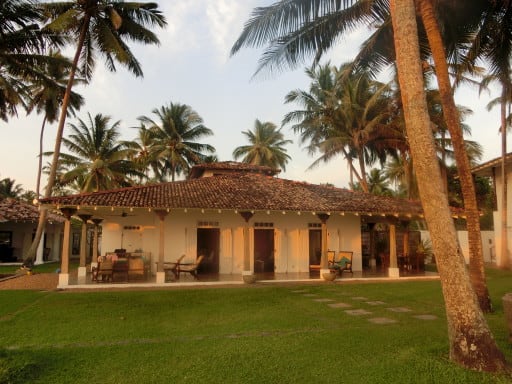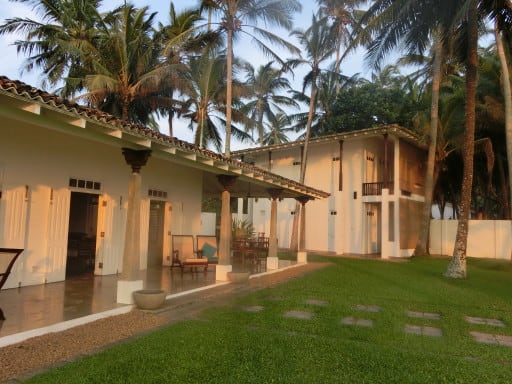 The villa is in colonial style and has a charming feel to it.  It's certainly not the slickest villa I've stayed in – if you're looking for super modern then this won't be the place for you.
What I loved about the villa were endless amounts of seating options from an Ibiza style seating area overlooking the ocean to rocking chairs on the verandah.  If you're in a big group but don't want to feel on top of each other, Olanda will provide that.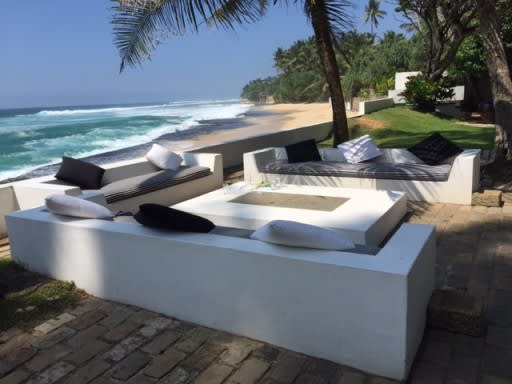 The facilities
There is a large swimming pool, games room and the best facility of all, the beach on your doorstep.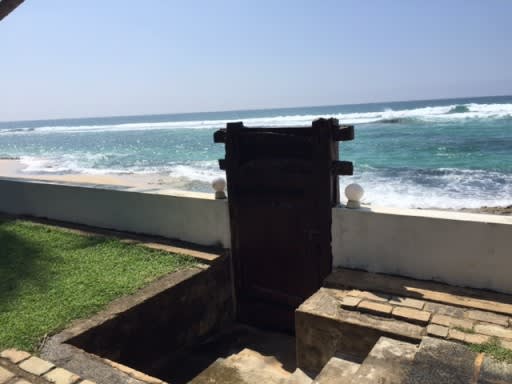 The gardens are enormous and perfect for a spot of family cricket.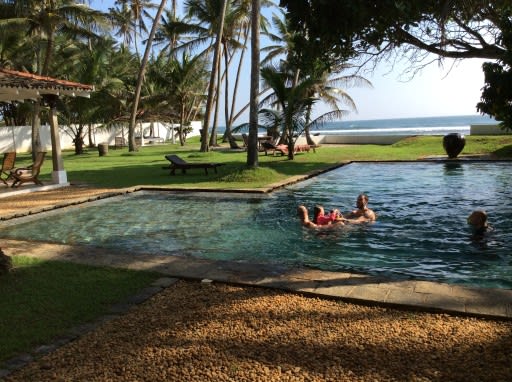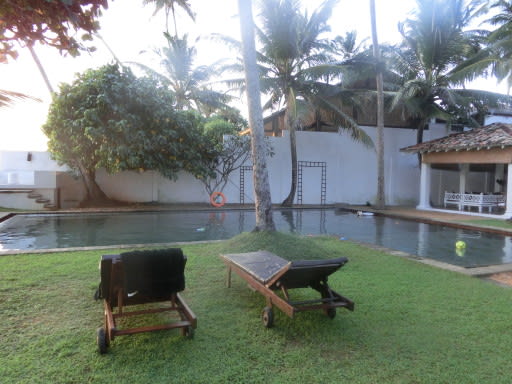 The living room has a TV and comfy seating areas. There is also a bookcase with books and games for you to borrow.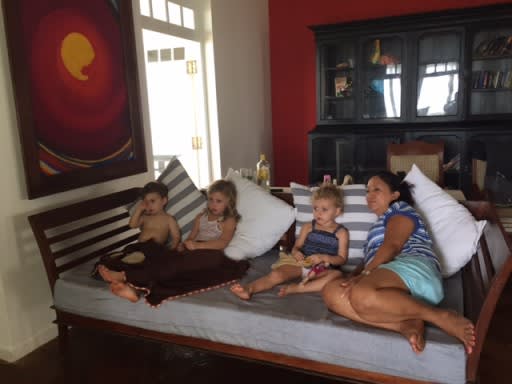 The downsides
We found the shower water to be unreliable.  Sometimes hot, sometimes not. Sometimes no water at all.

The pool is quite shaded and requires a few prior sunny days to heat it up (unfortunately we arrived in an unseasonal rainstorm).

The TV provided is quite small given the size of the villa.  In general the electricals are quite lo-fi – don't expect a pimped up villa with the latest Bose sound system etc.

Although you have the beach on one side, you also have a main road on the other.  Expect lots of tooting and singing bread vans.  The villa also has a guard dog who can be noisy at times.
Would I return?
We had a beautiful time at Olanda Beach House over the Winter break.  It was so special to be right on the beach and nothing beats morning beach combing for shells.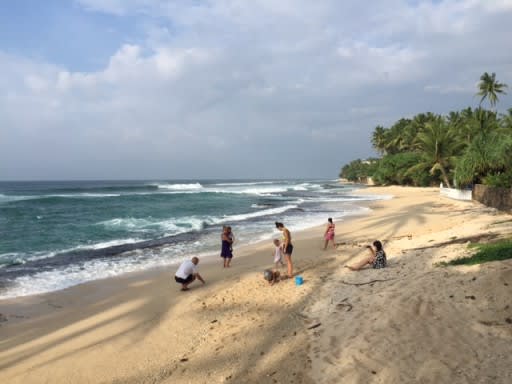 Would I return?  Well I'm all about trying something new so I probably wouldn't return to Olanda immediately. However it was a stunning villa, in fact I don't think I've ever stayed in one that was so spacious.
If you are looking for a 6 bed villa, be sure to check out Auraliaya which is a few doors down. I met the owners on the beach and they kindly gave me a tour round.  I also visited friends who were staying at Indisch, approx 15 minutes away and I can also highly recommend that villa – they even have a kids playground.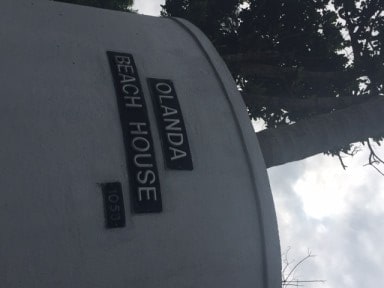 For more information on villa rental in Sri Lanka, contact Vinod Gordon at vinod@paragonholidays.com
For more information on what we actually did in Sri Lanka (mostly just sat on the beach) please check out my previous post