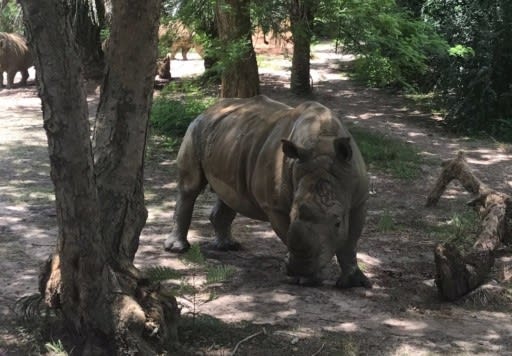 When mapping out my original Disney itinerary, I hadn't planned to visit Animal Kingdom (the fourth theme park to be built at Disney World).  I had allowed for 2 days Magic Kingdom, 2 days Epcot and 1 day at Hollywood Studios. I figured my kids weren't that into animals, or old enough for the Avatar and roller coaster rides so we'd skip it.  Then my sister paid a visit and wouldn't stop raving about her amazing day. She told me we only really needed one day at Epcot (as usual, she was right) and to change our plans.  
Booking Animal Kingdom FastPasses+
I was a bit late to the party with the FastPasses+ – booking them only one day in advance. Animal Kingdom has a tiered FastPass+ system. For each day, guests may reserve slots for THREE different attractions, but only one of those can be in Group A (i.e. the two Avatar rides).  Despite the short notice I secured passes for Kali River Rapids and Kilimanjaro Safaris.  The main thing to know with Animal Kingdom is that everyone goes nuts for the two Avatar rides; Flight of Passage and Na'vi River Journey. If you don't want to wait a million hours or pay a guide to take you, you will need to be on time in booking your Avatar FastPass+ in advance.
Getting to Animal Kingdom
You can't to the Animal Kingdom via monorail, you must either drive or take a bus. We took the complimentary Disney Shuttle from our hotel, the Polynesian Village Resort. This took about 20 minutes.
Park Strategy
Assuming you haven't scored a FastPass+ – If you have kids tall enough to ride Avatar: Flight of Passage you MUST get to animal kingdom early and run as fast as you can for Pandora. Miss Mayhem was too short but a friend said it was out of this world, the best ride of all the parks. Instead, we ran straight for the Na'vi River Journey and still had to wait about 45 mins. Overall the ride was lovely but between you and me, nothing to write home about.  By the time we exited, the wait for the adjacent Flight of Passage was over 2 hours!!  At 9.45am!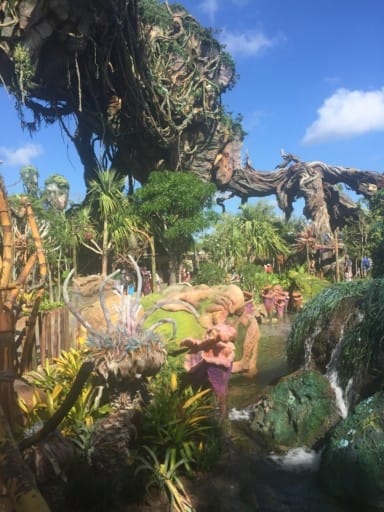 Pandora, the Avatar themed land is an eye-catching place to wander around. We also caught the Drum Circle show which was fun.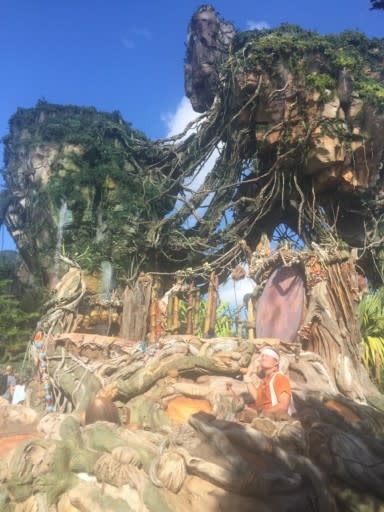 I was surprised by how beautifully laid out Animal Kingdom was. There are 7 lands; Asia, Africa, DinoLand, Discovery Island, The Oasis, Pandora and Rafiki's Animal Watch. Asia in particular is colourful and beautifully themed.
From Pandora, we headed to Discovery Island for the 'It's Tough To Be A Bug Show'.  This is a 3D film and live show inspired by 'A Bug's Life'.  My 5-year-old did find it a bit scary so be warned.
It was then time for our first FastPass+, the Kali River Rapids in 'Asia'.  This is also a very popular ride and we did feel rather smug breezing through in the FastPass+ queue.  Kali River Rapids is a river raft ride with a 97cm height restriction. We all loved this one! Afterwards you can wander around the Maharajah Jungle Trek to see tigers and a komodo dragon.
Luckily my kids are still small enough that they don't really want to do the roller coasters. Although I'm sure in the future I'll get dragged on Asia's 'Expedition Everest'.
From Asia we walked to DinoLand which is probably the best 'Land' for little ones. It's essentially a carnival with games and carnival rides.  My girls loved Primeval Whirl and Triceratops Spin.  The Boneyard is very sweet, a kids playground in the form of an open-air dig site.  We didn't get the chance to do Dinosaur as the queues were too long but likelihood is Miss Mayhem would have been too scared.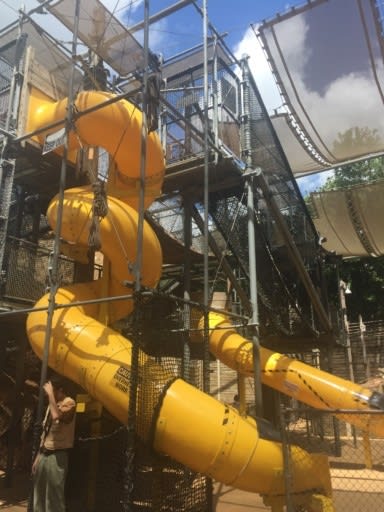 Africa is another beautifully themed land.  We walked the 'Gorilla Falls Exploration Trail' and saw gorillas, zebras, meerkats, hippos and birds.  Then it was time for our favourite ride of the park, the Kilimanjaro Safaris. If this is the closest I ever get to a real safari, that's fine with me.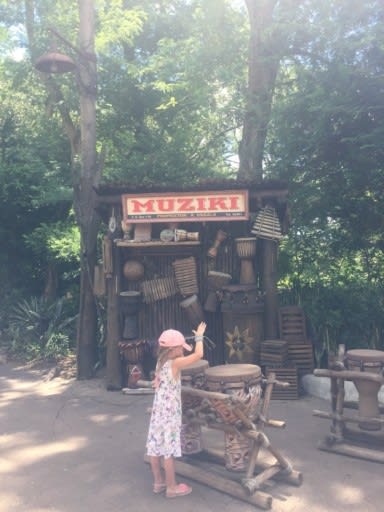 The ride was brilliant and a chance to see how vast Animal Kingdom actually is. You are taken on an open-air safari jeep through 100 acres of 'East African savanna'.  They have done an amazing job replicating this and we saw so many animals from elephants and zebras to giraffes and lions.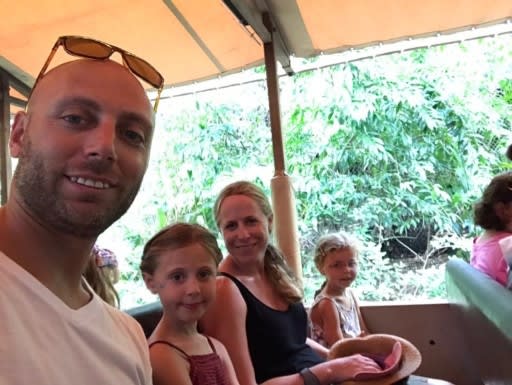 Whilst the ride is mainly gentle and all about the animal spotting, there is a part where an old bridge pretends to crumble underneath the jeep (part of the shtick) but it might scare young kids. Apparently the best time to ride the Kilimanjaro Safaris is in the morning. We did it at around 3.30pm and saw loads of animals!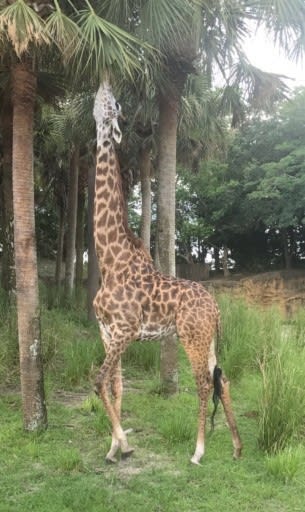 Dining options at Animal Kingdom
As usual there's a tonne of dining options. In the morning, we grabbed coffee and muffins from Starbucks, Discovery Island. For lunch we had a rather disappointing falafel and hummus from Mr Kamal's Kiosk in Asia.
Final Thoughts On Animal Kingdom
We left the Park around 4pm after a jam-packed day. We saw everything we wanted to, save for the Lion King show but we had experienced something similar at Hong Kong Disneyland.  I'm so pleased my sister told me to ditch our second day at Epcot for Animal Kingdom. The rides are fun and it's a good contrast to the Magic Kingdom and Hollywood Studios. I'm still keen to check out the Avatar: Flight Of Passage ride for myself so I guess I'll be back!