Regular readers of this blog know I'm forever frequenting Thailand as my easy beach break from Hong Kong.  But this year we decided to shake things up and spend Easter break in Phu Quoc.  Phu Quoc is located in the Gulf of Thailand and is the largest island in Vietnam.
I was quite surprised that there were so many hotels to choose from (I think I had pictured Phu Quoc in my mind as a tiny island with one beach hut and some coconuts).  Although the Mango Bay eco lodge with all its activities for kids and laid-back accommodation (think no air conditioning) looked great, essentially we wanted a nice pool and cocktails.  We eventually picked the Chen Sea Resort & Spa as the advanced booking prices offered great value for money and the oracles on Tripadvisor gave it the thumbs up.
Getting there
We flew with Cathay Pacific from Hong Kong to Ho Chi Minh City and then Vietnam Airlines to Phu Quoc, which I've written about in more detail.
Visa
Don't forget to organise your Vietnam visa.  That said, if you are solely travelling to Phu Quoc then you may be exempt, check with your travel agent or local Vietnamese consulate.  Here's a previous post on getting a Vietnam visa.
Hotel booking
If you're travelling with 2 adults and more than 1 child then you only have the option of booking the Jacuzzi Villa or Ocean Facing Pool Villa.  I chose the Jacuzzi Villa as it was the cheaper option and booked direct through the hotel's website, also requesting a travel cot and extra bed.

Airport transfer
The hotel is approx. 30 mins drive from Phu Quoc International Airport and the resort arranged a pick up for us at an extra cost of USD $7 per person, per way (free for kids)
The Chen Sea Resort
The resort has 36 rooms in total, the original part of the resort being the first two rows of accommodation, the Beachfront Villa and the Sea View Villa.  If you like to walk out on to the sand, then the Beachfront villas are absolutely perfect with a large bedroom, bathroom and outdoor verandah with a big bath.  These are max 2 adults + 1 child so if you want to stay on the beach, you'll need to purchase a connecting room.  The cheapest rooms, the Sea View Villa are similar in layout but located one level behind the Beachfront Villa.
I booked a Jacuzzi Villa which was quite frankly, one of the nicest hotel rooms I have ever stayed in. The room was enormous with an elevated King Bed, walk in wardrobe (you could potentially put travel cot in there) and a day bed which was made up for my 4 year old to sleep in.
The bathroom was stylish with an indoor and outdoor shower, shallow bath and so much room.  The icing on the cake for the Jacuzzi villa is a huge balcony with unheated jacuzzi, sun beds and a shaded lounge area.  This room is perfect for those who still have kids who nap during the day as you can sit in the sun on the balcony while they snooze indoors.
I also got the chance to snoop around the Ocean Facing Pool Villas which are set furthest back from the beach, each with their own pool.  If you are travelling with a large family (villas have 2 bedrooms) and like hanging out in your own space then this could be a good option.   
Facilities
The resort has a laidback vibe and does not throw extensive facilities in your face. It is all about moving from the pool, to the beach, maybe a bit of kayaking and then on to the grassy area for happy hour.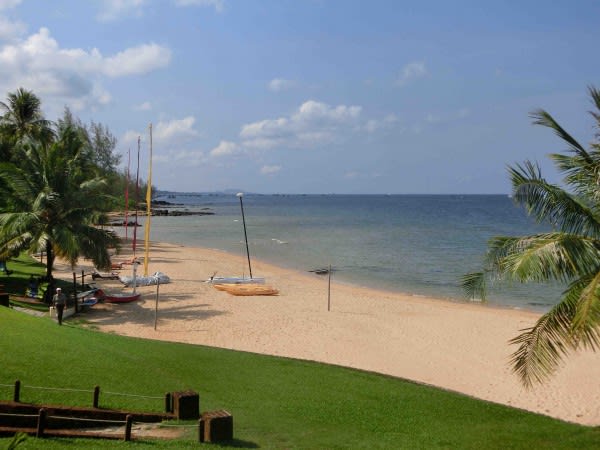 There is a small private beach with clean sand although the water was a mixed bag.  Sometimes it would be clear but later in the day, you could see rubbish collecting around the jetty.  There is a small water sports centre which hires out free kayaks and snorkels or you can organise windsurfing, scuba diving etc.  You can literally jump off the jetty in front of the resort and snorkel with some lovely fish.
The pool is medium sized with a separate shallow-ish area, perfect for my 2 year old to walk up and down in unaided.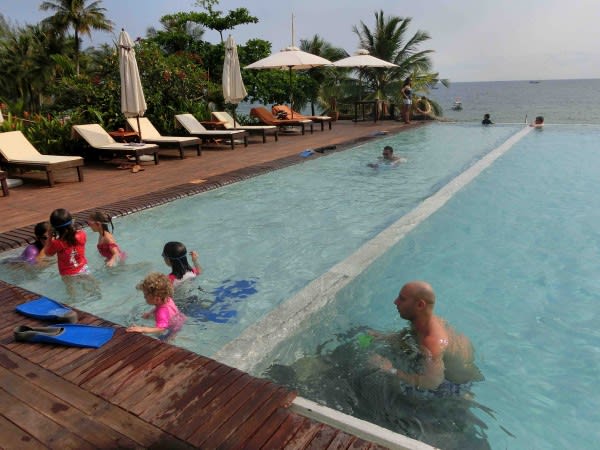 If you want a kids club then this isn't the place for you – however, mine were delighted to spend their days padding in the pool or playing on the beach.  Top tip – get some older children to adopt your children and that's 'Kids Club' taken care of.
The spa is a collection of open air rooms, my friends said the massages were very good and the prices reasonable for a hotel.
Food
Included in our room rate was the buffet breakfast which had a pretty good selection including an egg/pancake/noodle section.  Now.. wait for it..  they also make the best omelette I have ever eaten.  
For the rest of your meals, you can choose between snack food at the beach bar or the main restaurant, Il Ristorante.  The latter has a nightly buffet/BBQ or always the a la carte option.  Again, be sure to order the french fries which are absolutely amazing.  Overall, the food is pretty good, which it needs to be as there aren't many other places to go that are close to the hotel!  As we were only there for four days, we were extremely lazy and didn't venture out.  I think most people in the resort are similar so it might be worth having your dining table booked in advance.
Happy hour at the beach bar is 5.30-6.30 and they stick a load of bean bag chairs out on the lawn. You can also walk down the beach to a small bar which serves beers and some food.
Activities
Despite my best intentions of wanting to go and explore the island, I was extremely lazy and did nothing.  We were going to hire a boat to take us to one of the more picturesque beaches but we had some rain on the first day and then some subsequent hangovers that wouldn't have coped with a choppy boat trip. You can go and visit the fish sauce factory which I thought sounded fascinating but the rest of my group vetoed….
Overall
I would recommend the Chen Sea Resort & Spa in a heartbeat.  A sign of a great resort is that despite being at 100% capacity, it often felt half empty.  I probably wouldn't go for longer than a 5 day stretch but our 4 day/3 night stay was simply perfect.  For me, it was good value for money for such an enormous and tasteful room (I paid just under USD $1000 for 3 nights accommodation including breakfast and all taxes).  
If you don't like to get away from it all and want to be in walking distance of restaurants and bars then this isn't the right place for you.  However, that's what made it the right place for me – I truly did switch off (albeit as much as you can when travelling with young kids) and indulged in lazy days and relaxed evenings (bar the late night skinny dipping).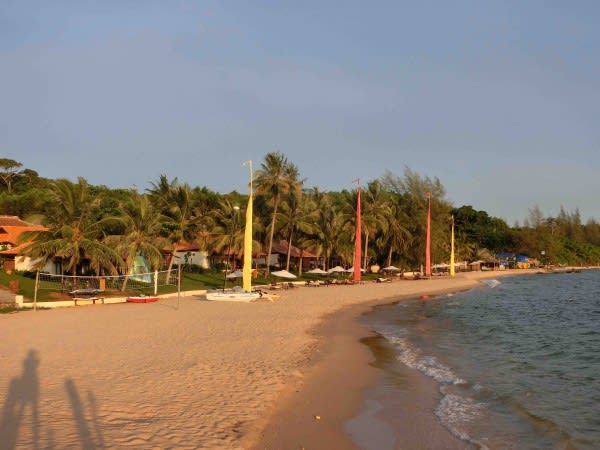 Phu Quoc Tips
The best time to visit is November to April.  Avoid the heavy rains of September and October

I would wholeheartedly recommend the Chen Sea but there are quite a few others depending on your budget that might suit – I hear good things about La Veranda and Freedomland.

There's not much around the resort so if you're travelling with kids, bring all your bits & bobs with you from nappies and sun tan lotions to formula and pool toys.

You might not need to get a Vietnam visa if you are going straight to Phu Quoc. Check here for details
Following me posting this, the GM of the Chen Sea, Olivier got in touch and wanted to add these tips!
Tip1: Yes it is true in theory that there is a visa free 30 days for who goes to Phu Quoc.  The bad part of the story is that nobody (including the concerned Administrations) knows how it is or it will be implemented.

Tip2: Direct booking to the GM gives the best deals (based on business in hands) and we give added services like taking care of Visa for those who (as travelling) cant give their passport too long to get a Visa.