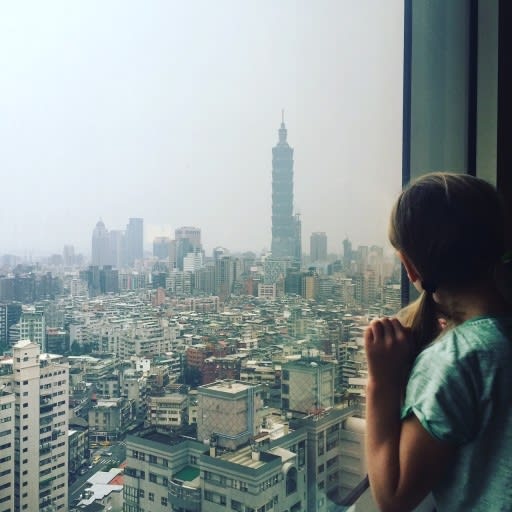 Trust me on this, a citybreak with a baby is a doddle.  Pack your baby carrier, feeding essentials and you can march to the beat of your own drum. It gets trickier as your babies morph into more demanding toddlers then small people with attitude.  All of a sudden you can't run around a city following a jam-packed itinerary.  You have to prioritise parks over museums and no matter how fabulous the city, your kids would always rather be in the hotel pool.  
My children are now 7 and 4 and I do miss the days of sticking them in a stroller and wheeling them around a city. For the most part, the 7-year-old is fantastic company but the 4-year-old is more demanding, especially when walking long distances.  We recently spent a wonderful 48 hours in Taipei (stay tuned for more!)  This is a super city for family travel; pavements are stroller friendly, local transport is easy, clean and cheap and there's not an overwhelming amount to see so you feel you can tick everything off the list.  Here are my tips for managing your citybreak with young kids:
Bring a small backpack. No matter how old your kids are, you still won't fit everything you need in your stylish cross-body Marc Jacobs bag. It's backpack or bust.

Always factor changeable weather into your day out. Fill your backpack (see point above) with layers.

Never let your kids choose what shoes to wear. Make them wear their most comfortable shoes.

Do lots of research on age appropriate activities for your destination.  There is so much information out there from family travel blogs to Tripadvisor forums. I also visit my local library to see what guidebooks they have.

Once you have done your research, do a rough outline of your day.  You should always check the opening times of attractions (I realised many in Taipei were closed on a Monday) and you might even find a day where museums are free (e.g. Wednesday in Hong Kong).  I use google maps to work out the best way to get from one attraction to the next.  In fact sometimes the journey is part of the fun e.g. riding on the Thames Clipper in London or the Tram in Hong Kong.  If you're in a country where English is limited, you may want to consider hiring a local guide with a car.

Go through your itinerary with your kids.  I like to give my 7-year-old some options to find out what she would most be interested in and she loves to feel involved.

Edit your itinerary again. If you think your wayward toddler will be out of place in a quiet art gallery, is it really worth it?

Locate parks with great playgrounds – your kids will thank you for it.




Carry hand sanitiser and tissues in your backpack

Have plenty of water and snacks to hand

A fun way to have your kids engage with the city is to arm them with a disposable camera or sketch pad and pens.

If you are still using a stroller, bring a lightweight one that is easy to fold.  I almost envy those of you that are still at stroller age, it would make life a lot easier with my 4 year old who will only walk a short distance then demand to be carried!




Even if you are a devoted foodie, choose restaurants that will be suitable for your little ones. There's no point having your Michelin starred meal ruined by a tantruming toddler who only wants fries.  If it's really important to you to visit that special restaurant, book a babysitter.  On a recent visit to Taipei, we wanted to make the most of the food at the local night markets. I knew that my kids might not appreciate all that was on offer so I gave them a mini dinner at the hotel so they wouldn't be starving and then they were content to munch on extra goodies at the market.




Where possible book a hotel with a swimming pool. It's always useful to have this up your sleeve as bribery for visiting museums!