I did promise you I'd reveal where this beach was….  it belongs to the beautiful Boracay, an island an hour's flight south of Manila.  

Rob & Kate took their daughters to Boracay in February and here's his review of their stay at the Discovery Shores:
Who went?
3 families from Hong Kong.  Us with twin 4.5 yr olds, and both other couples with 1 daughter each both almost 3 years old.  One of the families were Boracay veterans – this being their 3rd trip.  And a return to same hotel, and same area for all trips – which said a lot to us.
Where did you stay?
The Discovery Shores Hotel on Boracay Island.
When did you go?
Chinese New Year 2014 – wanting to maximise the trip we all took 1 day extra off work and left on Thursday 30th (day before CNY public holiday) which probably explains the less packed than expected airport (on the way there).
How was the weather?
Pretty good for the whole trip.  Not scorching, with one day where it was fairly overcast all day and another for part of the day.  However, still perfectly warm for the beach/pool/hot tub action.
How did you book the holiday?
Through a Planet Holiday package deal.  They offered direct flights to Boracay as a Chinese New Year special, with a choice of 8-9 hotels.
I don't think it was that cheap, but it was easy.  Also, the more direct flights to Boracay are normally only arranged for Chinese New Year and we'd heard that heading to Boracay the traditional way, via Manila was a mission.  Flight times were excellent, leaving HK early morning, arriving into Kalibo, picking up a coach/mini bus for 1.5 hours, then a 7 minute ferry crossing to the island.  Once on the island it just depends on the traffic and how far down the only arterial road your hotel is – but typically, the better hotels are at the far end of the island.
Did you have to organise anything in advance?
As it was a package trip, all we arranged separately were 2 separate mini buses to whisk up from Airport to Ferry terminal quicker (and in more comfort) than getting on a large coach.  Cost was 80 USD per family – and we got 2 large mini buses for the 10 of us.  No babyseats were provided – which were promised.  Disappointing.
How was the flight?
Flight was great.  No issues at all with the service on Philippine Airlines (charter flight). They even gave out traditional chinese red packets to every passenger.  The food was not too bad either.  No TVs on backs of seats – so kids entertainment needs to be in your hand luggage – ipads, comics etc.
One of the little girls was sick on the flight – so remember your wet wipes on the plane.  Essential.
Customs lines were fairly long but we were in the buses 25 minutes after touching down – so not bad really!
How far from the airport to the hotel?
Probably 3.5 hours all told, which included a 20 minute wait at the ferry terminal for the 7 minute crossing.  The way back, no waiting time at all. 
Tip for the airport – there's an exit tax/terminal fee.  Check how much this is, but it's between 300-600 PHP.  Hotel, nor tour operator told us about his.. would have been helpful.
How was the room?
The room was stunning.  The three families got top floor mezzanine rooms.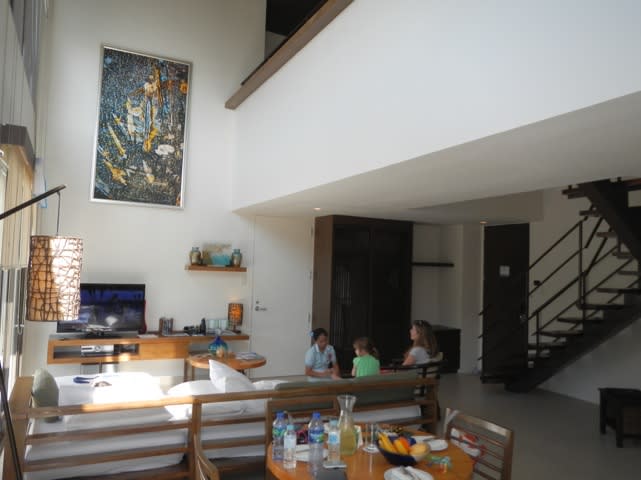 Downstairs there was a sofa / kids bed, TV, kitchenette (sink/dining area/space – no cooking appliances other than a coffee machine), wardrobes, a shower room with loo and sink and 2 balconies.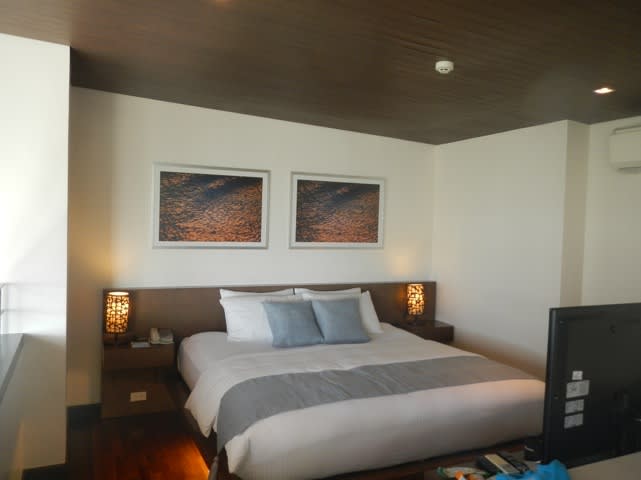 Upstairs a larger bathroom, big king size bed and a roof terrace complete with 2 sunloungers, 2 chairs and a table and a hot tub.  We were lucky – ours had a view of the sea.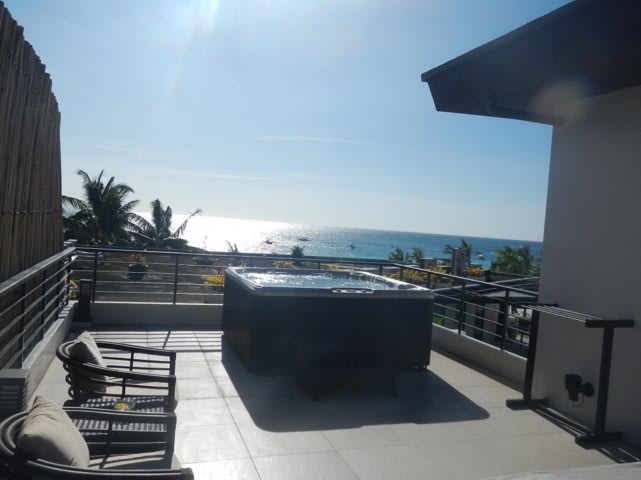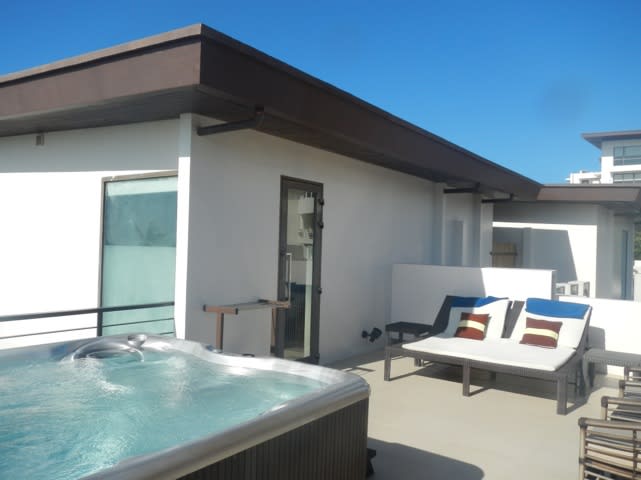 Upon arrival a ten minute foot scrub was offered – even to the kids, a nice way to start the holiday.
Not loads of kids amenities in our room, but possibly because we didn't ask or really require any.  Each night the kids had towels folded into different animals as part of the turn down service.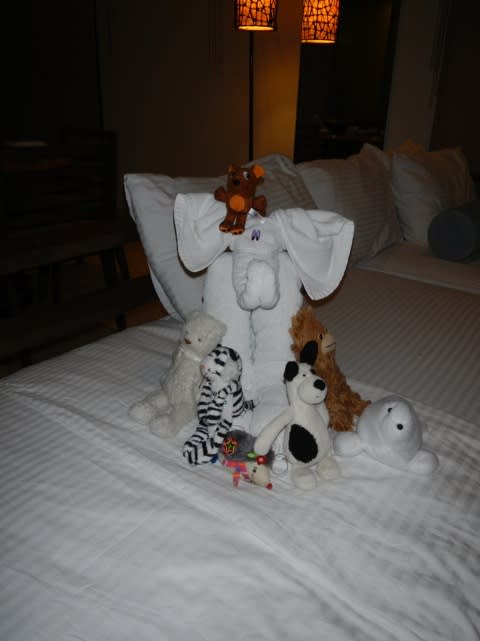 How were the facilities?
The pool was a good size and also had a hot tub area.  Most of the units overlooked the central pool area.  
Large hampers full of children's beach toys for guests to borrow.  No need to bring any beach toys at all.  And even if not at Discovery Shores, you could buy all that stuff along the beach within 5 minutes walk away at the area called D-Mall.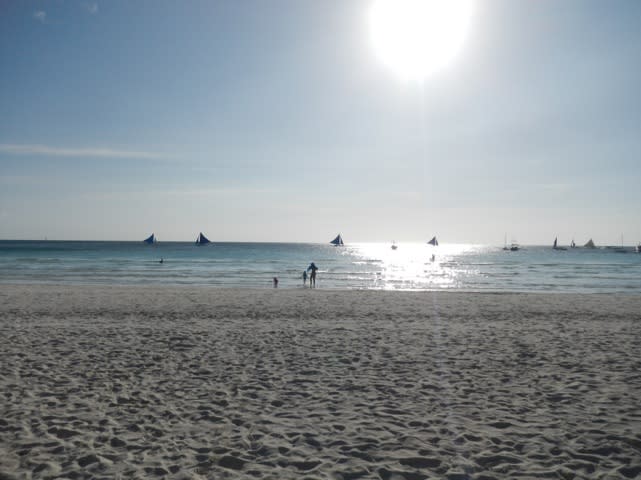 There was a spa, but prices were in the region of 5 times what you paid 30 seconds away down the beach.  Interesting point though, that you could get the Spa ladies to come to your room and that worked out at about half of what they charged to have the massage in their spa.
Was there a kids club?
There was a kids room and daily activity session.  Room well equipped and staff friendly and it was an hour-long free crèche between 4-5pm.  The activities were not well organised so one day we were all going to a t-shirt printing (as advertised) but when we showed up, it was an organized game of musical statues instead, so not ideal.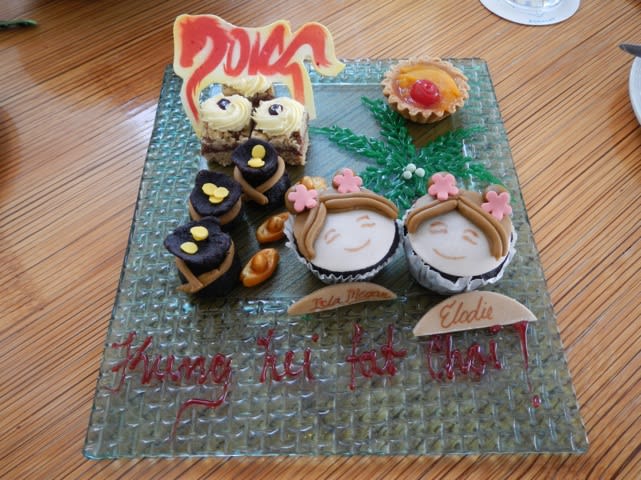 How was the food?
Food was good in the hotel (try the ribs!).  There was a wide range and a good mix between Western and Asian food choices.  Minor complaint would be on the inconsistent portion size, particularly with the salads.
Service was amazing from restaurant and their bar to beach service – coming round 3-4 times a day asking to clean your sunglasses!  There twice a day snacks – with fun stuff for the kids like ice lollies and treats for adults like Evian spray for hot faces.
Did you eat outside the hotel?
A couple of nights out.  Would recommend Paradiso, about a 15 minute walk down the beach to get there.  Fresh seafood that you pick from the tanks and they cook any way you want.  Lovely.  Careful when you walk back to the hotel, as the tide comes in fast – possibly better to get a tuk-tuk to save the wet jeans!
Did you do any excursions?
We actually didn't go on any excursions and just chilled by the pool or beach.  There are a lot of boat trips and scuba/snorkel centers on the island.  Also, Boracay is fairly famous within the kite surfing community.
In conclusion!
Overall, the trip was amazing and something we'd recommend.  The journey is definitely more tricky than say a simple direct flight to Phuket but the direct flights to Kalibo from Hong Kong, made it a very do-able trip for 4-5 days.  We would definitely return, and almost certainly to the exact same hotel/room if possible.
Was it family friendly?
Overall, yes.  We discussed this whilst there and we all agreed that the toddler age group is probably the worst for the resort (and perhaps even Boracay in general).  Small babies and or 3+ year olds who have some safety awareness are fine.  There were a lot of places around the hotel where you could easily have an accident such as:
In the mezzanine room like ours, the staircase was wooden and fairly slippery and the hand rails not ideal.  A fall down them or onto the marble flooring would not be pleasant.

Walking from the entrance past the pool to the main reception there are several water features to step across or close to, which for a small child or even an adult not watching their step could fall in to.

There are a lot of sharp corners throughout the rooms and hotel, again something to be wary of.
What tips do you have for someone booking the same holiday!
ATMS/Credit Cards
It's a remote island.  You are not in a very internet friendly place.  Credit card machines often don't work.  In our opinion this was not a scam, they simply couldn't get the machines to work.  Often taking 10 swipes/waiting for dialup connection etc.
Similar story for the ATMS.  There are perhaps 10 on the island.  One morning I visited 6 of them and got nothing – that extended my run somewhat!  All were either emptied or out-of-order.  Perhaps due to Chinese New Year and a heavy tourist influx, but something to be aware of.
Lastly – for the Philippines you need a valid passport for 6 months.  If for any reason you forget to check this prior to your holiday, remember as a UK passport holder the process changed for expats, and for HK residents, you can't simply go to the embassy for a replacement anymore.  Now instead of hours, the process takes weeks.  We paid extra to get ours couriered both ways and the process took 2.5 weeks.  However, we were originally told it would take 4-5 weeks.