After three nights in Sydney and a night in Newcastle, it was time to head North up the coast. Our destination; Port Macquarie. This beautiful beach town in Australia's New South Wales, is nestled between the Pacific and Hastings River. As you can imagine, it's a popular holiday spot. For guaranteed summer sunshine, head there between December to February. We visited in mid October (aka their Spring) and we had sunny days and cooler nights.
You can access Port Macquarie direct from Sydney in a day. It's a long old drive (4.5 hours) but we raced from Port Macquarie to Sydney Airport on our last day.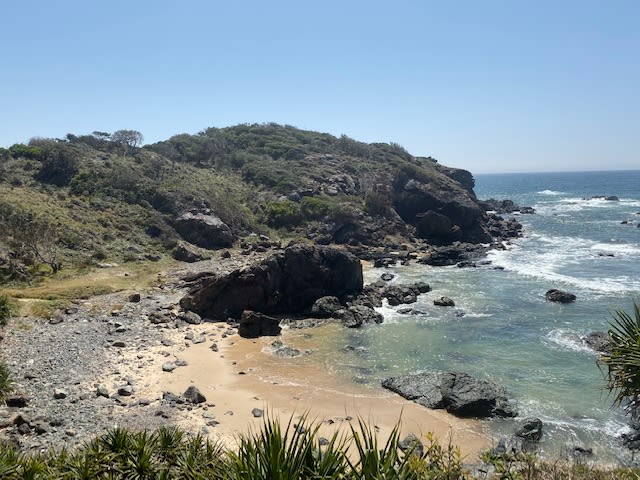 Where did we stay?
I booked an apartment at Flynns Beach through airbnb. This is a convenient location, just south of the main town. Within walking distance you have the beautiful eponymous beach, several cafes and a minimart.  There are 15 beaches throughout Port Macquarie, with Flynn's, Shelly and Town as the most popular beaches for family.
What did we do?
The attraction that originally drew me to the Port Macquarie area was the famed

Koala Hospital. You may have heard it mentioned through the bush fire situation and all the work they are doing to save the koalas. The Hospital has been running since the early 70s and is involved in both treatment of sick koalas and also koala research. There are daily tours led by wonderful volunteers who bring the Koala Hospital to life. You can see the koalas who are in rehabilitation and of course, get the opportunity to donate well needed funds.  The free tours are daily at 3pm, where you'll see the koalas being fed.

From May to November humpback whales migrate off the east coast of New South Wales.  If you're in Port Macquarie during this time, be sure to book the Waverider tour through Port Jet. Although you're there for the whales, the bumpy boat in itself is lots of fun. That said, if you are remotely seasick, take tablets in advance. I am rarely seasick but I vomited 3 times on this trip (very neatly in the sick bags provided). Don't let that put you off as seeing the whales up close is magnificent, a memory I will treasure forever.  

On Lighthouse Beach you can ride a camel!  This was great fun and we all enjoyed being regaled by funny stories from our guide. No need to book, just turn up and you'll spot the camels on the beach.

There are lots of family friendly hiking trails.  Check out the Port Macquarie Coastal Walk.  We hiked Stage 4 from Shelly to Miners beach. Beware that Miners is a nudist spot! This walk will also take you through Sea Acres Nature Reserve and end at Tacking Point Lighthouse.

If you want to learn more about nature and the rainforest, head to Sea Acres Rainforest Centre. There's a small visitor's centre and you can pay to stroll around the boardwalk which winds its way through the forest.  The boardwalk is flat, easily done with a stroller and there's a cafe for ice cream bribery. With the ticket, you get some activity sheets including bird spotting.

Where did we eat?
Delicious breakfast and coffee at Sandbox on Flynns Beach
Hit up Reyhana in Port Macquarie Town – it may look like a takeaway in the front but there are seats in the back
Fish & chips from Off The Hook

Possibly the best pizza I've ever had, from Pizza Obsession. Get the 'Lamb Dinner'.