On holiday my five year old is happy to spend 90% of her day splashing around in the pool.  My three year old is a bit trickier and needs to have a variety of entertainment options available.  On a recent trip to Thailand, I packed an arsenal activities for keeping them quiet on the plane and in the hotel room.  OF COURSE I also have the iPad but I don't let them use this by the pool or in the restaurant as otherwise they will demand it all day long.  In case you are looking for activity inspiration, here are some of the things we packed:
STICKY MOSAIC KITS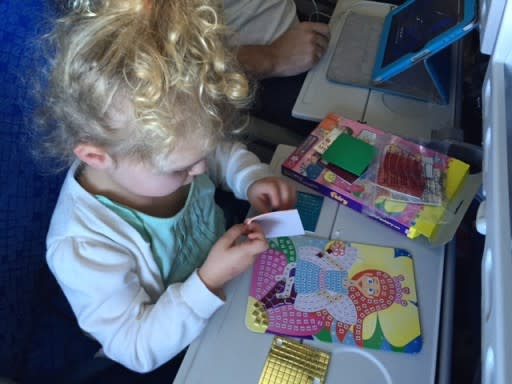 These handy little boxes are perfect for crafty kids. Both my kids (age 3 and 6yo) love doing them and they are a great activity for plane travel.  In Hong Kong I buy them from Wanchai market but elsewhere you can order online.
MAGNETIC DRESS UP DOLLS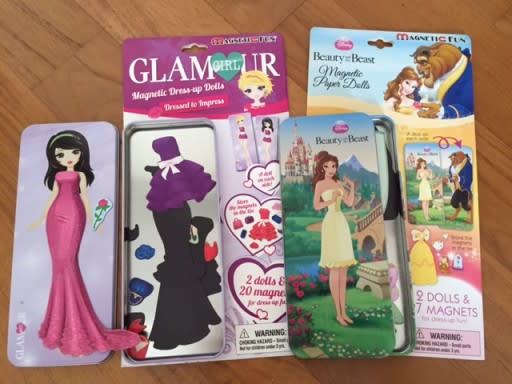 Slimline and lightweight, these are the perfect travel toy. The front of the tin has a drawing of a somewhat undressed princess/girl.  Inside are a number of magnetic dress items that you can use to stick on the tin.  I love these are they are easy to stash in your handbag to take out to meals.
In Hong Kong I bought them at my local bookstore but you can find them online.
STICKER & COLOURING BOOKS
For younger kids, dole out plain paper and big stickers that they can pull off easily. Fat triangular crayons are also good for little fingers.
For older kids (3+) there are so many wonderful sticker/colouring sets out there.  Here's a selection of what we took away recently.
I've mentioned these before but I love these handy Tiger Tribe Piccolo colouring sets as the coloured pencils and sketch pad are contained.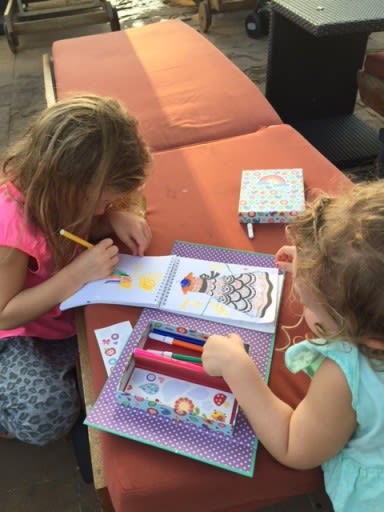 JIGSAW PUZZLES
I left my 6yo in charge of packing her own Trunki so when I saw she had packed a large jigsaw puzzle, I couldn't really dispute it. Although these ones aren't exactly designed for travel as they are relatively big, the kids loved playing with them in the room. For those that don't know Krooom, they are a brand passionate about design and ecology, the idea being that 100% of the product can be recycled.  There are four designs available of the 45 piece puzzle. The lovely packaging in the cute suitcase means they would also make a great birthday present.
You can buy the puzzles from BumpstoBabes etc in Hong Kong and elsewhere online.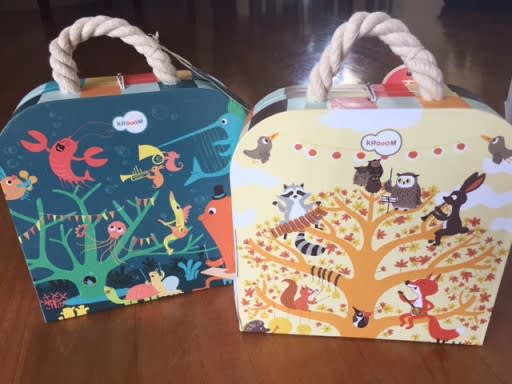 KIDS ACTIVITY MAGAZINES
In the UK you can find kids magazines at many supermarkets and book shops.  They usually have all the well-loved brands from Peppa Pig to Doc McStuffins.  My girls love these as they are crammed full of activities from colouring in to word searches.  Great to do together with an under 4 and perfect for an over 4 to do on their own.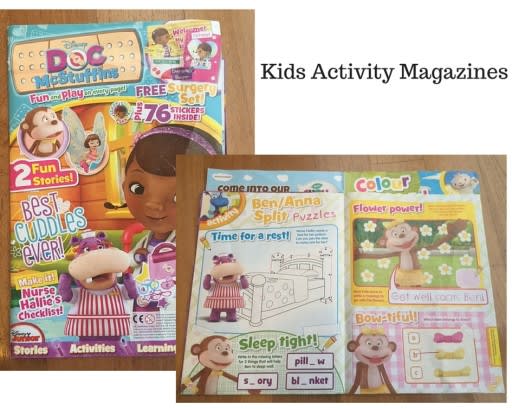 BOOKS
My idea of a perfect holiday is lounging by a pool with my nose in a good book. I am delighted to grow my own little bookworms and always pack enough books to keep everyone happy.  Suitable books to take away on hols are those that are lightweight, those you don't mind ruining (think water and sand) or indeed losing.  This was a very exciting holiday for my 5yo as it was the first time she had her own 'proper book with no pictures'.  Little did she know I also had a sneaky read of it remembering this childhood gem.