Remember the old days when you could have a Bloody Mary, watch 4 movies, pop a magic pill and fall into a gentle slumber on the plane? Yes that's me on the left…
Those days are long gone but you can still try your hardest to enjoy (!) flying longhaul with your kids. The more relaxed you are as a parent, the more relaxing your flight will be.  
On the one hand, you might have the flight from hell.  A particular favourite in my repertoire of bad flights was flying alone with a baby AND the norovirus (I spent most of the flight hugging the toilet).  Or your kids might surprise you with how angelic they are by sleeping, playing nicely and sitting still to watch TV.
In any case, here are five easy steps to follow in order to ease yourself into that longhaul adventure:
STEP 1

Do all that you can to secure the seats that you need.  This might mean getting your travel agent/calling the airline's office to ensure you get those bulkhead bassinet seats.  Or arriving a bit earlier than usual at check-in.  Or paying a little extra to get the seats that you want.  Here are some tips on how to help secure that infant bassinet.  Bear in mind if you are travelling with an infant, in most cases you can't check-in online in advance.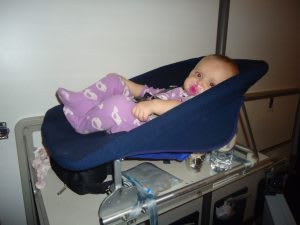 STEP 2
Pick hand luggage that will work for you.  I'm now a backpack fan, which leaves me hands free to run after wayward children!  I use a Pacapod Picos as they kindly sent me one but I used to have a trusty (probably fake) North Face backpack from Vietnam that lasted me for many years.  You might have also seen me rave about my Flylite which is a wheelie cabin bag that also turns into a suitcase which I use if I'm not bringing checked luggage.

STEP 3
Don't fling things at random into your hand luggage.  Consult a packing list and work through methodically from snacks and baby's milk to baby wipes and a black pashmina (always good for blackout!).  It's no fun when you forget your toddler's favourite comforter.  Don't forget to include a baby carrier e.g. Baby Bjorn, Ergo which you'll find invaluable after you've handed the stroller in at check in or gate and also for jiggling baby to sleep on the plane.

STEP 4
On the day of the flight, stick to your child's normal routine.  If you've got a late night flight, put them down for their usual bedtime sleep so at least they've got some gas in the tank for when you get to the airport.  If you have any spare time during the day, perhaps try to have a little nap when they nap.
STEP 5
Come armed with entertainment for the kids.  Babies don't need much, toddlers like eating and ripping things up and older kids are happy to sit back and watch the TV.  The internet is full of tips and ideas on toys and games to bring on the plane.  
Here are some links you might find useful:
Toys to keep young kids amused on the plane
5 Toys for 3 to 6 yo
Top 10 Toys For Baby on A Plane
Best iPhone and iPad Games for Kids
I hope you've found this post helpful. One last tip – as soon as your baby/child falls asleep on the plane, try to also grab some sleep.  As tempting as it is to reach for the movie and that glass of wine, you never know how long you've got until they wake up again!