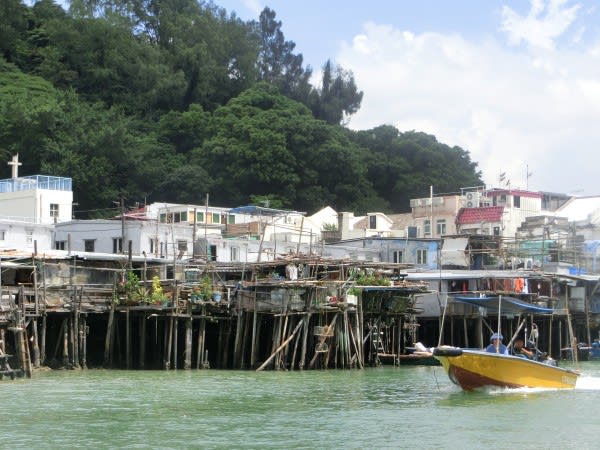 I don't normally use this blog to share things about my hometown of Hong Kong (am too busy droning on about the horrors of flying longhaul with kids).  However it still amazes me that after seven years here, there's so much more to discover.  A trip to the fisherman's village of Tai O aka 'the Venice of Hong Kong' had been on my radar for quite some time.  Located on the western side of Lantau, Tai O is a feast for the eyes and mouth and I highly recommend any visitor with sufficient time get out there to witness its beauty.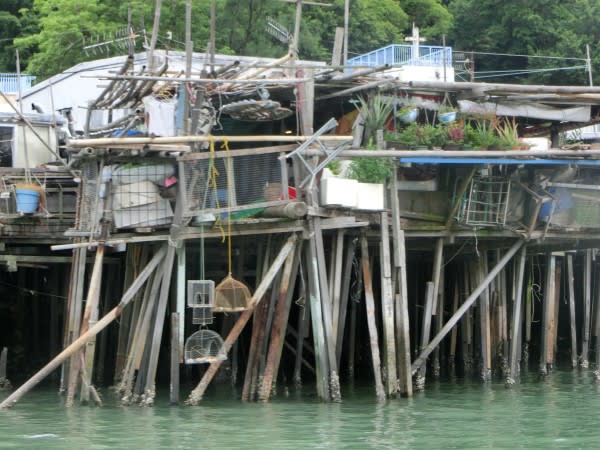 The village is famed for its stilt houses that sit above the tidal flats.  These seemingly ramshackle structures are a site to behold and one of the best ways to view them is by water.  As soon as we arrived in Tai O, a salesman approached us about a 25 minute boat tour through the village and out to sea.  At HKD $20 per person this is a cheap and fun way to get acclimatized. One of the main selling points of the boat trip is the chance to see pink dolphins but sadly we saw none.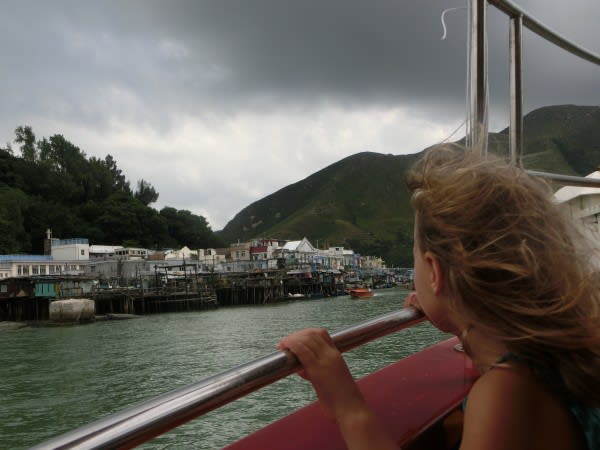 You could spend ages wandering the streets and walkways of Tai O.  Interesting market stalls line the road from dried seafood to herbal teas.  If you've got young kids, you could definitely bring a stroller and walk around the town and along the main promenade.
My kids loved the endless snacking opportunities in Tai O.  Pick up a fresh coconut to drink or local flower tea.  The more adventurous might fancy the fish balls and BBQ squid sticks.  Our favourite was the egg waffle man.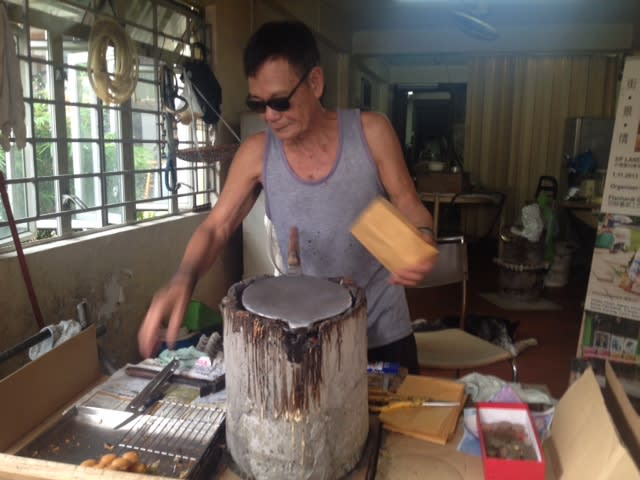 There are various lunch options around.  After turning our nose up at a restaurant recommended online (grumpy staff sitting around outside smoking), we stumbled upon Lin Heung (52 Kat Hing St).  It was amazing to peek into the kitchen and see the back door exit straight into the water.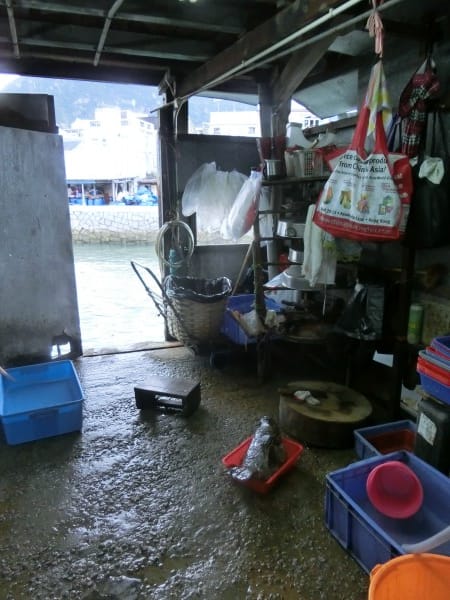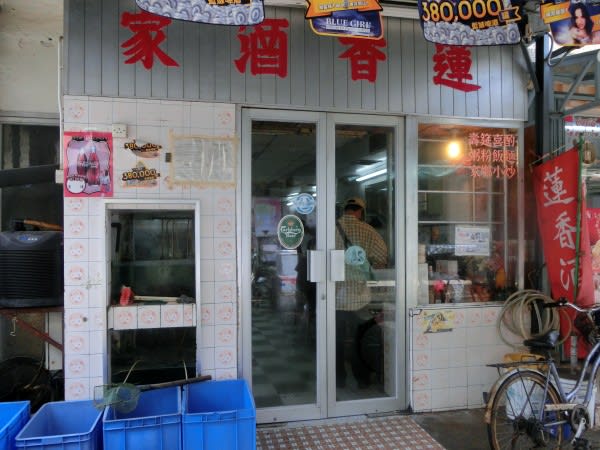 So what's the downside of visiting Tai O and why isn't it on every visitor's 'must do' list.  I think it's down to the fact that Tai O is a bit of a pain to get to as there's no direct route.  If you're visiting from out of town, I would combine it with a trip on the cablecar and visit to the Big Buddha as it is only a short bus ride from there.  It took us about 90 minutes to get there and back from Hong Kong Island.
Jetlag & Mayhem's Tips For Visiting Tai O
Plan your journey well and factor in lots of time for it.  We took the fast ferry from Central to Mui Wo (25 mins) and then the bus from Mui Wo to Tai O (45 mins).  For the return we took the bus to Tung Chung (45 mins) and then picked up a taxi although we could have taken the MTR home.

During busy weekend periods, get to the bus queue with plenty of time to make sure you get a seat. It's a long ride otherwise!

If your focus is more on seeing the pink dolphins, book to go with a tour operator like Hong Kong DolphinWatch (an amazing company who wish to raise awareness of the plight of the pink dolphins and put money into research and campaigns)

Even if you usually snap with your iphone, its worth packing a real camera for this trip – the scenery is outstandingly photogenic.

If you don't fancy the look of a local seafood lunch, there are a couple of nice looking Western cafes, Melt and Solo.

If you want to really escape from it all, make a night of it and stay at the Tai O Heritage Hotel (a converted police station).