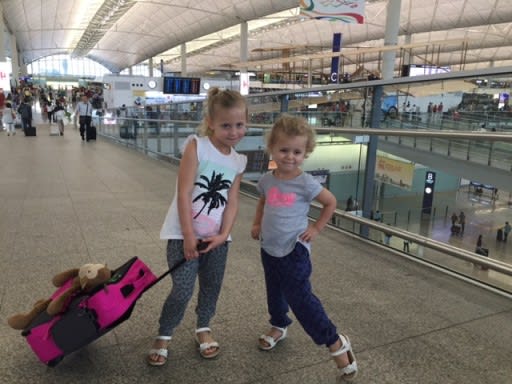 I'm finally passed the point of lugging around bottles, formula, food pouches etc.  That doesn't mean I've returned to the days of packing moisturiser and Evian spritz for those longhaul flights.  My bag is still crammed with essential items for a 6 and 3 yo.  On a recent short flight I realised I had become a bit too complacent with my hand luggage packing and had forgotten to pack kid's medicine. I thought it might be useful (as much for myself as for anyone else) to outline what I STILL pack in my hand luggage. 
Chargers!  Nothing worse than an iPad out of juice.  Many airlines now have charging sockets and airports are full of them.

Passports and passport holder. I've extolled the virtue of my Up & Away Multiple Passport Holder in a previous post. It's now the most chic thing in my hand luggage.


Wallet – I actually have a separate 'travel' wallet that I use for our vacations.  This is a lite version of my usual wallet i.e. one without all the supermarket receipts and loyalty cards.  It also means if it gets nicked, only a few bank cards get to be cancelled.  I highly recommend you do one of these and it's also a good excuse to go out and buy a new wallet.

Pen.  I hate filling in those flipping immigration cards.

Kindle.  I still love paper books but for travel, nothing beats the kindle.

Medecine.  I carry a bottle of Panadol and Gravol for the kids and a dispensing syringe.  For myself, a Xanax for the road.

Tissues

Antibacterial soap

Antibacterial wipes. I'm obsessed with the Dettol ones –  you should always wipe the seats of your armrests and tray table down.

Spare knickers for my kids

Pull up nappy for my 3yo

Baby wipes

Phone – my iPhone 6 now doubles up as my camera.  I can't believe I don't travel with a real camera anymore but it happened.

Important Documents in a plastic wallet – my travel spreadsheet, airport transfer info etc

Keys

Noise cancelling headphones (the best way to pretend my kids aren't happening)

Healthy snacks for the family.  A loose gesture as we are all likely to hit the pastries as soon as we hit the airport but at least we try!

Scarf.  Cabin temperatures range from arctic to boiling.  I always bring a cosy scarf – I'm lucky I live in close proximity to China, the land of fake designer scarves!

iPad or iPhones for the kids (we have several old phones which don't work well any more but the games still work so they are brilliant for travel)

Laptop (please don't ever check these expensive items in to the hold, it's not worth it)

Spare plastic bags

My J-Pillow for longhaul overnight
Now that's me.  I get my kids to carry their own stuff as much as possible. Here's what they have: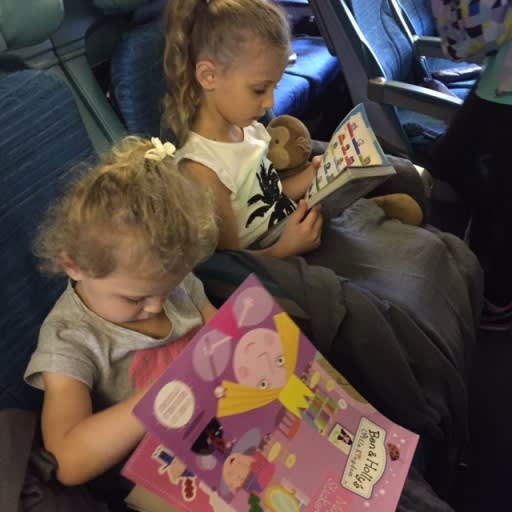 Colouring pens

Colouring-in (they love their Tiger Tribe Piccolo colouring sets)

Books

Cuddly toys

Reusable sticker books

Magnet toys

Kids headphones

Empty water bottle (we refill once we've got through security).

Notepad

Travel games e.g. Frozen Uno

Travel pillow and blanket (for longhaul overnight)

Cardigans/zip up hooded jumpers
As for bags, I rotate between my Pacapod Picos backpack which is convenient and efficient for travel or my Vamastyle beach tote if I'm headed on a beach getaway.
My 3yo always carries a backpack.  My 6yo has a variety of kids luggage (more than me) but her favourite du jour is her Cabin Max Bear Bag as she can stick a cuddly toy in the front (cue envious stares from other kids).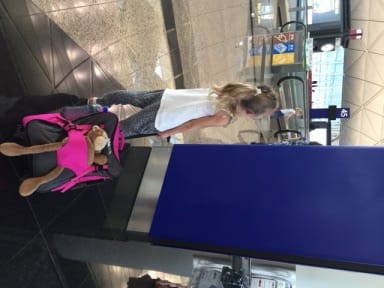 What do you bring onboard? And more importantly, how can I stop my 6yo bringing her huge American Girl doll and her entire wardrobe for our next longhaul flight?