Have you ever had one of those flights where you get off and the whole family thinks, yup we nailed that.  That was our experience of flying Hong Kong to Los Angeles LAX on CX880.  We all slept, we were all comfortable, we all watched TV and disembarked in a relatively good mood. That was until we hit the car hire.  Now I put a lot of this down to the fact we were in Cathay's Premium Economy. I usually fly Economy longhaul with the kids but once a year we use air miles to splurge. This time we paid for Premium Economy tickets (not cheap I grant you) and then used 40,000 miles each to upgrade a round trip to Business Class. However when our plans changed, we were able to move the outbound flight but had to forfeit the upgrade so it was back to Premium.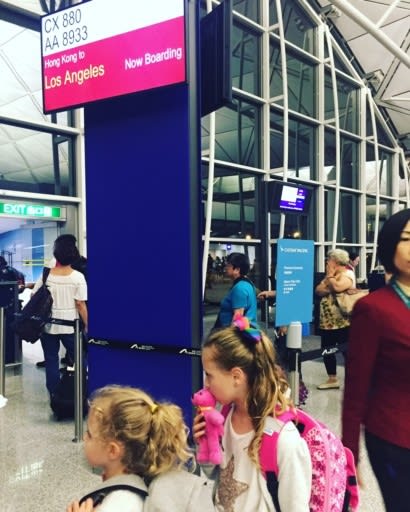 Before you go on any flight, make sure all family members are registered to the relevant airline loyalty programme. Both my husband and I are Marco Polo Club members and my kids accrue miles through Avios.
The Premium experience….
At the airport, there is a dedicated Premium Economy counter at check-in and luggage allowance is 35kg (vs 30kg in economy).
Flying Premium won't gain you access to any lounge although you will get to board before Economy passengers.
Onboard
We were flying on Cathay's 777-300.  What makes Premium feel special is that this section of the cabin is small.  The configuration is 2-4-2 at a maximum of 5 rows deep.  Our family of 4 were allocated 33 H-K and 34 H-K.  This is a great choice if you are travelling with kids as you are close to the Premium Economy bathroom which is ahead of 32. The only risk you run is that the bassinet is located at 32 H-K and in Economy 40 H-K. But let's face it, we were all babies once and you can get far more annoying passengers e.g. snorers, rowdy drunks and that's just me.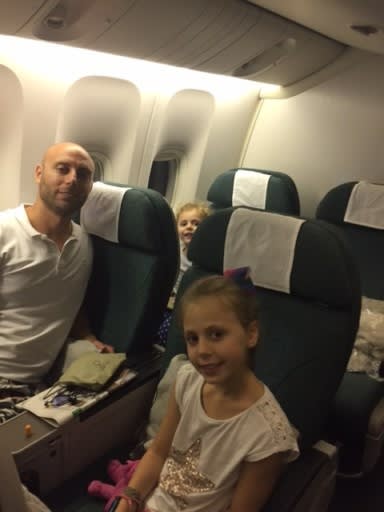 CX880 departs Hong Kong at 00:05 and has you landing in LAX the same day at 22.15. Side note – if you ever have a flight that departs in the hours of '00.something' make sure you have booked the right date / arrive at the airport on the right day.  A few of us have been stung by not quite realising when we were supposed to travel!
For this midnight departure to the US, your sleeping strategy should be to sleep the first half of the flight. I encouraged us all to go straight to sleep (mean mummy), nobody was allowed to watch TV till later on in the flight. Judging from the fact we all missed the dinner, I think we all passed out quite early on.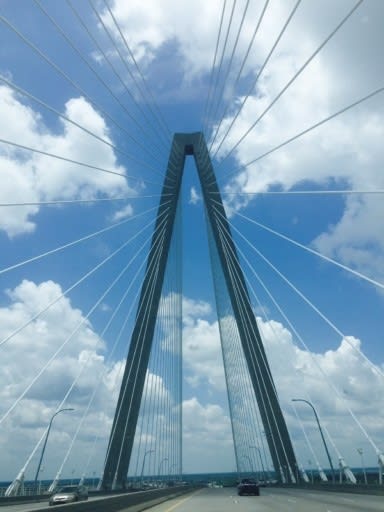 Premium customers are given a small amenity kit with a toothbrush, toothpaste, socks, earplugs and eye mask.  My 5yo was given a Mickey Mouse kids pack with a few activities inside.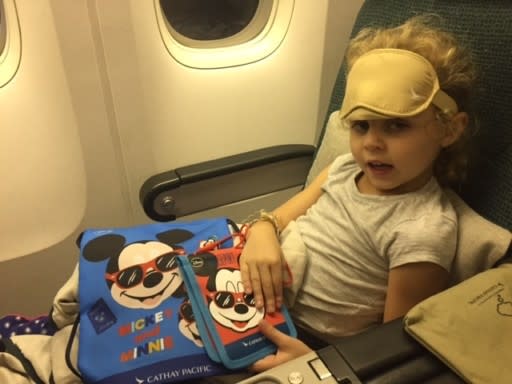 All of us got offered a welcome drink.  You also get noise cancelling headphones and a larger pillow.
The seat is comfy with a decent recline (8 inches v 4 in economy) and there's lots of legroom with a leather padded footrest. The seat pitch is 38″ vs 32″ in economy (this is the space between a point on one seat and the same point on the seat in front of it).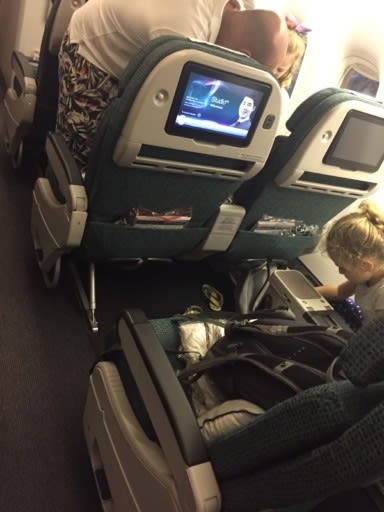 Cathay Pacific has the best inflight entertainment out there and the TV screen in Premium is 10.5 inches.
Food options are pretty much the same as Economy.  You do get a handy little cocktail table and also a bigger tray table. This was the Kids breakfast, not quite sure about the ratio of tomato sauce to the rest of it. A friend gave me a tip a while back to order the Hindu veg meal on Cathay. It is excellent and I highly recommend it!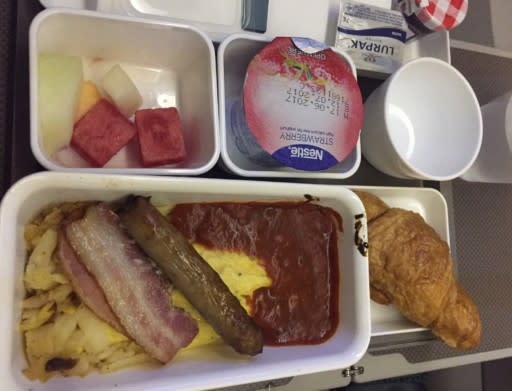 Is Premium Economy worth the extra money?
For a longhaul flight I think it's definitely worth the extra cash.  The Premium experience turned our dreaded 12.5 hours into something that was semi decent.  We all stretched out, slept well and arrived in an ok mood. Which in the land of all things family travel is certainly something to cheer for!