Following on from last week's review of a more budget friendly ski trip to Borovets in Bulgaria, we skip on over to the French Alps. Belle Plagne is part of the bigger La Plagne resort and offers an ideal base to explore Paradiski (the area that links La Plagne and Les Arcs). Our luxury correspondent Hena took the kids for their very first ski adventure during February half term and shares her review below.
Who went?
My husband, my two little girls Aria (5) and Amaya (3) and myself. We also had two other families who were out there at the same time.
Why did we book this hotel?
My husband and I have been skiing a few times but never with kids. We had always wanted to take the girls and this February half term seemed a good time to start. I had no idea how skiing with kids would work logistically especially in terms of lessons and childcare, but I had a friend whose children are a couple of years older and she had done the same ski trip for a few years running so I decided to just piggy back off her and book the same trip!
She told me that Esprit Ski was one of the best companies for family skiing and their flagship hotel Chalet Hotel Des Deux Domaines was the one they always booked so thought I would book the same!
When did we go
We went during February half term 2017 and it was the perfect time to go. Weather was amazing!
How did we book?
February half term is very peak for family skiing and my friend told me to book well in advance. I therefore booked a whole year ahead!
To book, you need to call Esprit directly and tell them which hotel. Esprit take care of everything – from flights, transfers and accommodation to kids ski lessons and childcare. When I called them they said their trip to Deux Domaines runs Sunday to Sunday and I could either fly to Geneva which was 3 hours away or Chambery which was 2.5 hours away. I wanted to fly from Heathrow for ease so Geneva it was. The Heathrow flight is a chartered British Airways flight and I was told more reliable and less prone to delay.
Esprit offer various different childcare options and lessons and I've outlined them all below. When you call to book, you can basically do a pick and mix of what you want on top of the flights, transfers, hotel and meals.
Childcare options
Nursery: all day care with qualified nursery staff for 17 weeks to 40 months

Snow Club: half day activity club for 3-8 year olds and includes a supervised lunch (this can be either in the morning or the afternoon depending on when the ski lessons are)

Mini Cocoa Club: pre bed stories and play for 3-5 year olds in the evenings whilst the adults dine. This is usually free if you book another child care package or lesson.

Cocoa Club: supervised evening club for 6-12 year olds. This is usually free if you book another child care package or lesson.

Cocoa Club Plus: evening club including après ski activities for 8-12 year olds – this is usually half price if you book another child care package or lesson.

Baby & Child Listening Service: free every night if kids don't want to go to Cocoa club. The dining room is for adults only in the evenings (and children over 8) so this is a really good (and well received) service!

Supervised Lunch Club: this can be booked separately if you only book half day ski lessons which don't include lunch.
Kids ski lesson options
Spritelets: half day ski play for 3/4 year olds usually in the afternoon

Sprites: morning ski lessons for different abilities:

Sprite Beginners: for 5-9 year old beginners

Sprite Improvers: for 6-10 year olds who have usually been once or twice before and can snow plough down a blue.

Sprite Intermediates: for 7-12 year olds who can comfortably ski down blues and maybe reds

Sprite Advanced: for 8-12 year olds who can ski.

Sprites Xtra: same as above but also incorporates lunch and afternoon ski classes in addition to the morning ones. Sprites Xtra lessons are available for all the above abilities.
The Hotel
It was a lovely hotel. Since there were 4 of us, we had a Paradiski suite booked which was a bedroom with a separate lounge. The lounge had an en suite and so did the bedroom. They put out two twin beds in the lounge for the girls.
Apart from the amazing childcare facilities, breakfast and dinner was included for everyone.
In terms of other facilities, the hotel had a lovely pool and steam room and also indoor and outdoor hot tubs. Massages were available to book.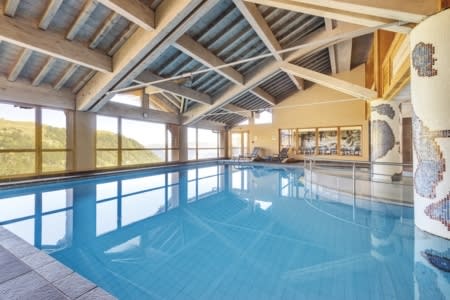 Location
The hotel was located in Belle Plagne which is in Le Plagne in France. It is a ski in / ski out hotel and also a 5 minute walk from Belle Plagne where gondolas can be taken down to Bellecote or up to Roche de Mio (for skiing). At Bellecote, there are various chair lifts to take you to the slopes!
The Day
We arrived at the hotel just after lunch on Sunday. After checking in and making ourselves comfortable, we ventured out to the town (Belle Plagne) which was a 5 minute walk from the hotel, to pick up our skis and passes. We took the girls sledging too (sledges were available to borrow from the kids club at the hotel). The children have high tea between 5pm and 6pm. They were tired as the flight from Heathrow was at 6.30am so it was an early night for them! We then signed them in to the child listening service and when downstairs for our dinner.
The child listening service is free and amazing. The hotel has about 2/3 members of staff per floor monitoring the children. We are basically told to leave the door slightly ajar. If they become unsettled, they can come and get us but in the meantime we can have an adult dinner without worry! Our floor only had 9 bedrooms so we were very comfortable using this service.
On Monday we dropped the girls off to Snow Club after breakfast and went out for a whole day of skiing and picked them up again at 6pm after dinner. We then took them for a swim and then bed. This was pretty much the routine every day. After a couple of days, we decided to take the girls skiing ourselves in the morning as we felt we weren't seeing them enough (!) but Amaya loved the Snow Club so much, she refused to come! It was lovely spending time with Aria every morning though! The hotel is really flexible and were happy for us to take her out of Snow Club if we wanted to.
On Saturday, there are no ski lessons for the children and the Snow Club runs from 12. This is a day that's normally good for family skiing! Amaya didn't want to come out with us so we booked her in for a special sledging and snowman building activity in the morning.
Wednesday nights are the chefs' night off. This means there is no dinner served. They can however order pizza for the children and the child listening service is also available if we want to venture out. We thought this was a good time to take the girls out for dinner. There was a lovely pizza restaurant with a kids menu (and colouring book and crayons!), a minute walk from the hotel called Le Chalet so this was ideal!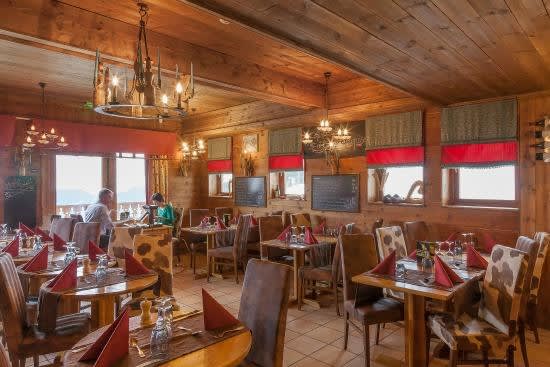 Meals
A lovely buffet breakfast is provided at the hotel for everyone.
The children had supervised lunch and high tea at the hotel every day too. This usually included food like pastas, jacket potatoes, baguettes, sausages etc.
For adults, there was a 3 course meal served every evening (apart from Wednesday's). Every morning at breakfast we were provided with the menu for the day to make our choices – every day there were two choices for starters, three for mains and two for desert with most dietary requirements being catered for (we were told to give our dietary requirements at the time of booking).
Lunch was usually on the slopes for us and we went to a few lovely restaurants:
– La Pierre Menta: fantastic pizzas
– Godille: lovely terrace with views
– Hotel Carlina: high-end restaurant with the most amazing view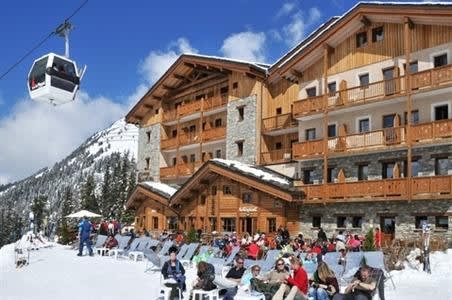 One evening we decided to venture out of the hotel again. We got a babysitter as apart from Wednesday's, you aren't allowed to leave the hotel and use the child listening service. We asked one of the Snow Club staff to babysit and she charged us €10 an hour. We went to another lovely restaurant in Belle Plagne – Matafan. The fondue was amazing here!
Things to pack
Kids clothes – these need to be named. There's a fantastic blog on the Esprit website outlining exactly what to pack for kids:
Snacks: kids need snacks for their lessons so easiest to take from here – a chocolate bar or biscuits are sufficient per lesson
Lunch: we arrived in Geneva at around 10am and then had a 3 hour coach transfer to the resort. The terminal at Geneva is tiny and not many food options so it is best to take some lunch with you for the coach e.g. Sandwiches etc.
Card games / sticker books / colouring / ipads for the coach journey.
 
Staff
Staff were so amazingly friendly and accommodating! The staff are mostly all British and there are a lot of gap year students who are working / skiing for the season. This meant they were young, energetic and really friendly and absolutely loved what they were doing. They really looked after the girls and Amaya still remembers Elly from the kids club!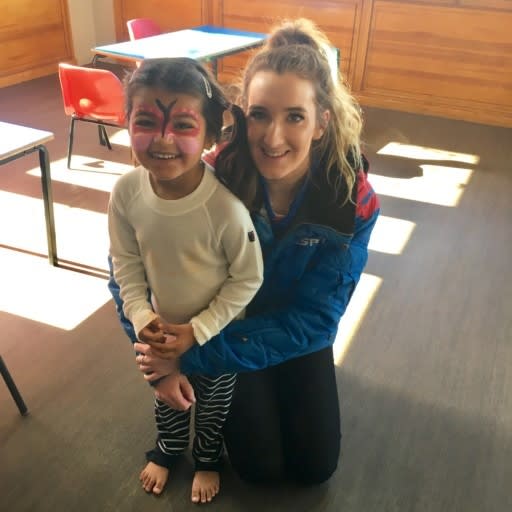 Other things to get
Other essential items needed for a ski trip are:
Lessons for adults: not everyone needs these but I wanted to book some for myself! There are many English-speaking ski schools in Belle Plagne but the one that kept being recommended to me was Oxygene. I emailed them and booked daily private lessons for myself directly with them. Their office is directly in Belle Plagne so was easy to find and arrange meeting points:
Skis: these can be hired through Esprit directly but I forgot to add these on when I made my booking so hired them from Oxygene when I booked my lessons. Oxygene use Intersport for their ski hire and this ended up being better than booking through Esprit (who use a different company) as it meant there weren't any queues when we went to pick up the skis on the Sunday

Kids skis also need to be hired (and helmets). I booked these through Intersport too so that we could pick them all up from one place but again this can be done through Esprit too:
Lift passes: lift passes for under 5s are free. I had arranged lift passes for the girls from Esprit but got my husbands and my own from Oxygene. It was slightly cheaper and since their office is in Belle Plagne, they were easy to pick up on Sunday when we picked our skis up!
 
Conclusion
This was such an amazing trip and I can't stress how awesome Esprit was! The childcare was brilliant and I felt completely comfortable leaving the girls with them.
Every single element was thought of and we all had a brilliant time! We have already rebooked (the same hotel and room!) for February 2018! If you want to join us, get booking quickly!