A friend of mine is in charge of airline cabin maintenance (yes she's the one responsible for your broken seatback TV).  She recently sent me an article featuring 'the top 10 toys take on a plane'.  Her first comment was that I must promise never to take item no. 2, 'playdoh' onboard, which is course causes a major headache for her department. 
The list intrigued me as it was developed following a British Airways study.  Professor Robert Winston (Mr Mega Mustache) ran the social experiment placing 30 youngsters on a flight with a selection of toys for two hours.  These kids aged 2-10 were observed by Robert and a team of educational psychologists.  Apparently these kids don't need iPads or TVs.  Oh no.  What they need are the following:
Loom Bands

Playdoh

Lego

Top Trumps

Uno

Usborne Activity Cards

Magnetic Travel Game

Aquadoodle

Finger Puppets

Stickerbook
Now I can't deny that all above aren't great ideas, many of which I often cite in my own top 10.  I recently brought a pack of Loom Bands for my 5 year old to play with on a shorthaul flight and that went down a treat (perhaps not so much with the clean up crew scurrying around to pick up multi-coloured bands).  I love the idea of the suggestion of Lego but seems like it's best saved if your beloved child is flying in business class, as per Professor Winston's pic below (seriously, who has the room to lug around a box of lego in hand luggage?)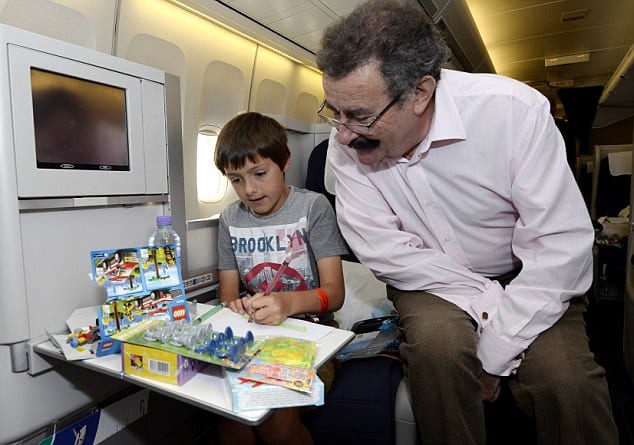 So whilst I say a huge thanks to Professor Winston for providing us with some great ideas (minus the playdoh for my friend), I would say that these are IN ADDITION TO an iPad/iPhone/Seatback TV.  I don't know who these kids are that they found to do this experiment but mine certainly wouldn't be contented to play with Uno, Aquadoodle and Finger Puppets for two hours.  Or maybe I should test this theory out on my upcoming 12 hour flight to Hong Kong (solo with Mesdames Jetlag & Mayhem)?  Perhaps not. 
What these psychologists are failing to realise is that parents are doing their utmost for a quiet life on a plane.  When you see a noisy child on a plane, trust me the parents aren't sitting back grinning in delight that the entire cabin is being disturbed. They are frantically shushing and pulling out all the stops in their arsenal of tricks which likely includes the iPad.  I love watching my kids play with stickerbooks on a plane and using their imagination but I also enjoy it when they're glued to Frozen for 90 minutes and I can enjoy an episode of Modern Family and a glass of wine in peace.
What do you think about the list? Are there any toys that you're surprised didn't make it?  Would you prefer not to have your kids glued to the iPad/seatback TV and playing Uno?