We've been a bit too Asia focused on the blog recently so let's hop around the world to the Greek islands!  Denise from the fantastic Around The World With A Highchair shares her Greek island cruise adventure with us: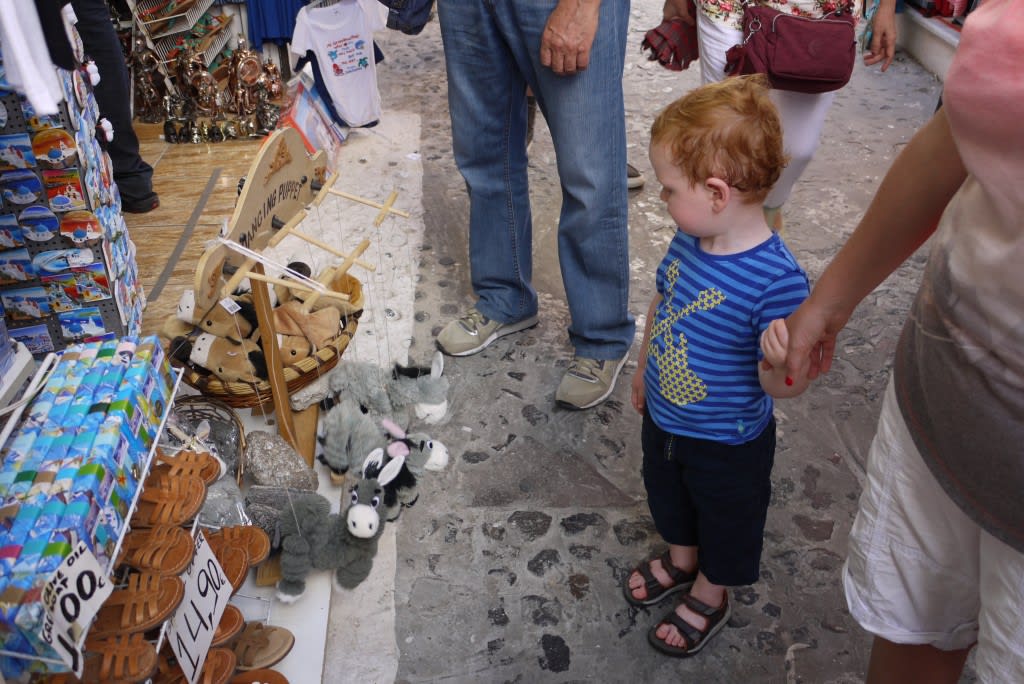 Who went?  Mr and Mrs ATWWAH and Master ATWWAH (2 years)
When did you go?  September 2013
Where did you go? Flew to Venice to board the Norwegian Jade for Greek Islands cruise (Corfu Town, Santorini, Mykonos, Ketakolon) and returned to Venice for a couple of nights in a hotel there.
How was the weather?  Mostly sunny, torrential rain when we arrived in Corfu Town for about an hour and then glorious sunshine.
How did you book the trip?  Booked the cruise through iglu, we booked BA flights direct to Venice and the hotel was booked through a friend who works at Flight Centre.
How did you get to the airport?  We took the car and did short stay parking, very easy.
Any tips on getting through the airport with kids?  Master ATWWAH just loves taking everything in so constant chatter helps.  He is at an age where running off is fun so finding a bit of space for him to let off steam is a good idea.  And feeding him 🙂  We went to Jamie's for breakfast which distracted him as he spent most of the time watching the Jamie Oliver shows.
How was the flight?  Love BA, we flew economy on the way out and business on the way back (not that swanky as it was only a short flight).  BA seem to go out of their way to make kids welcome and Master ATWWAH even got to have a look in the cockpit before take off on the way home.  I was more impressed than he was.  
How did you get to the cruise terminal?  We got a taxi at the airport to take us to the cruise terminal which was easy and no queues.  We hadn't arranged it in advance.  We had arranged a transfer with the hotel though when we returned from the cruise which was great, it involved a car and then a private water taxi.  And the transfer from the hotel to the airport when we left Venice was like being in a James Bond film with a private water taxi which once out of the waterways of Venice loved the open sea to the airport.  Master ATWWAH spent all the journey screaming 'more' in delight as we crashed around on the waves.
What did you think of the cruise room?  We had booked the Owners Suite on the Norwegian Jade (NCL) and it was amazing.  The suite was huge with a lounge, two bathrooms, bedroom area, dining table and two huge balconies.  We even had our own butler.  Master ATWWAH slept in his travel cot (the Baby Bjorn one which is amazing) although if he was older they would have used sofa beds.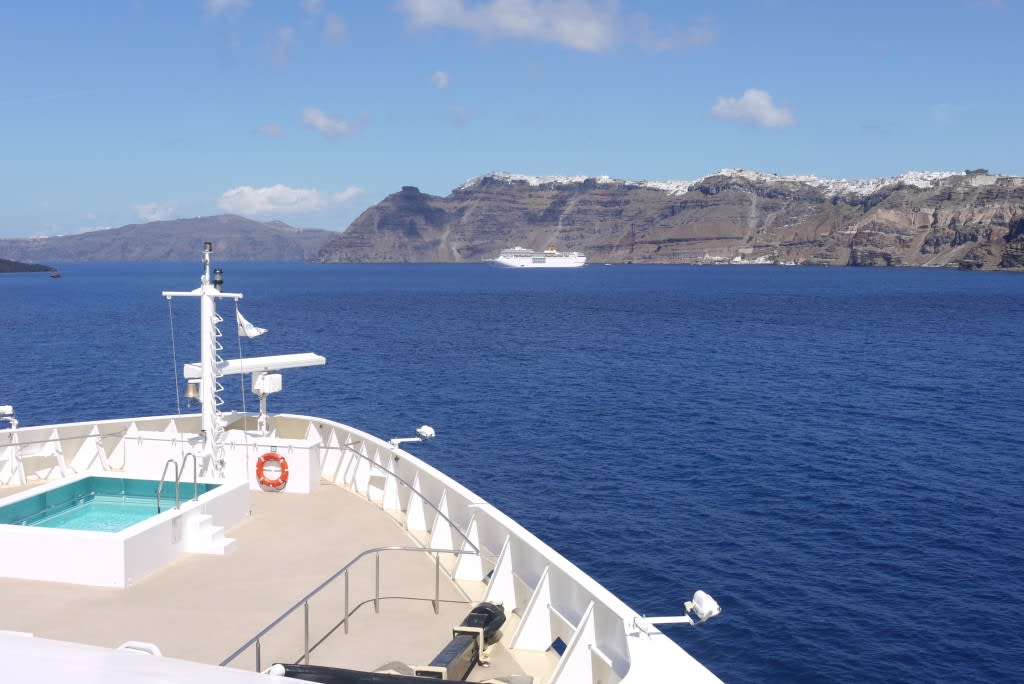 What did you think of the cruise facilities? Brilliant for families.  The whole NCL ethos is about 'freestyle cruising' so there are no set times for eating etc which is so much better than the previous cruise we went on with Royal Caribbean where you had the choice of 6pm or 8pm.  There is a kids pool with slide on the decks, Master ATWWAH loved running around the running track which was great as it tired him out too.  There was also a giant monsoon style shower on one of the decks which he loved turning on.  There was a toddler pool which was indoors with a very small slide and a little play area for babies/toddlers which you could use anytime. 
Was there a kids club & did you use it?  The kids clubs were split based on age and Master ATWWAH was too young to be left there but they ran sessions throughout the day such as art, music etc which you could take them along to.  We were always out and about though so didn't really do that.  
How was the food?  The food was good and there was a kids menu but it was the same one in every restaurant so there wasn't much variety.  Master ATWWAH does tend to eat most things so we sometimes ordered from the adult menu for him anyway.  We always tried to eat when we were in port too as you can't beat Greek food.  
Did you do any excursions outside the cruise?  We had the four port stops which were all pretty toddler friendly.  Master ATWWAH loved the stops where we had to get a boat from the ship to the port.  As we were in a suite we got priority for this which was handy with a little one.  All the places we stopped were very toddler friendly and beautiful – see more info at http://www.aroundtheworldwithahighchair.com/greek-island-cruise-adventure/ and http://www.aroundtheworldwithahighchair.com/greek-adventure/    
What tips do you have for someone recommending a similar holiday? Go for it.  I was pretty reticient about a cruise after our Canaries island cruise when Master ATWWAH was eight months old as it was everything I feared a cruise would be.  But, NCL was a lot more laidback and if you can splash out definitely get one of the suites as the balcony space and 'VIP treatment' are worth it. 
Would you go back?  Definitely.  The Greek islands are my favourite place for holidays and a cruise was a great way to see them.  We were originally going to go island hopping but decided to do it a bit more in an organised way with a cruise and I'm glad we did after seeing the cancellations and huge queues at most of the ferry ports we saw.  Not a fun way to travel with a toddler in the heat.