I've made plenty of mistakes when travelling with my babies. I once forgot to book a cot and discovered the hotel had nothing available.  I've also forgotten to bring a spare change of clothes for me onboard and sat for 12 hours with a top decorated in vomit.
With a minefield of mistakes out there to make, which ones can we avoid?
NOT TRAVELLING!  
Don't worry about messing up your baby's sleep patterns, jetlag etc.  Life is short and one of the best times to travel with children is when they don't move and don't cost too much (flying with a toddler = no fun).  Extra bonus if you get a bassinet when flying longhaul. This is the time for you to pick the destination you want to travel to rather than planning your day around what activities the kids would enjoy.

OVERPACKING
I can't believe the amount of hand luggage I see some parents turn up to for a flight.  Whilst I appreciate you need a plentiful stock of milk, nappies and wipes, beyond that, babies don't need too much.  One indispensable item for you is a baby carrier which makes travelling through an airport and wandering around a city that much easier.

NOT SPEAKING TO YOUR ACCOMMODATION IN ADVANCE 
You never know what a hotel/guesthouse/villa has to offer unless you ask.  Why schlep a travel cot halfway across the world when your hotel can provide a lovely one for you for free?  Hotels these days have wised up to parents needs and can often provide all sorts of fancy things from sterilisers and baby baths to moulis and even strollers. You should also reconfirm everything you have requested at least a few days in advance of your trip.
RIGIDLY STICKING TO YOUR BABY'S ROUTINE
It's your holiday and it's time to relaaaaaxxx….  Whilst it's good to get your child on to local time as soon as possible, don't feel you have to retreat to your hotel bedroom for every midday nap or worry about keeping baby up past their usual bedtime.
Think about buying or borrowing buggy blackout which will make it easier for your baby to sleep whilst you go out for dinner or sit by the pool.  Who knows, if you put your baby to bed later than usual, perhaps you'll get a lie in the next morning (wishful thinking?)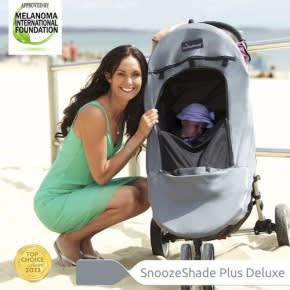 GOING IN CLUELESS
When it comes to parenting, people LOVE dishing out advice and that includes travelling with kids (hello, have you read Jetlag & Mayhem?)  Firstly, seek advice on where to stay and what to do, nothing beats a friend's recommendation.  Then surf the net, get ideas and tips from all those wonderful sites out there.  Check items off a packing list to make sure you don't overpack (no 2!) but do bring everything you need.