Ho Chi Minh (also known as Saigon) in the South of Vietnam, is a lively, chaotic city and a fun place for a minibreak.  The city is a foodie lover's dream and also pleases any history buff.  But does it cater to the family traveller?  Well judging by the fun Jetlag & Mayhem had, I think the answer is yes!  We spent 3 days / 2 nights and our itinerary was jam-packed.  So much so that I'm splitting this blog post in to two parts.  We traveled in mid June, which in theory is during their rainy season although it only rained heavily once.  The best time to visit Saigon is between November and March.  We also took advantage of relaxed visa rules for British travelers to Vietnam (ie we didn't need one).
Where did we stay?
Ho Chi Minh is divided into 19 districts and 5 communes.  Most attractions are concentrated between Districts 1 and 5.  Yet again airbnb came up trumps with an amazing, inexpensive apartment centrally located near some superb restaurants and shops. What made this place stand out for me were the attentive hosts Cat and Alexandre. They went to huge trouble to recommend restaurants, street food and attractions prior to our visit.  The 2 bed apartment has a lovely balcony and even better for those with kids, a rooftop pool!
Getting around
Although we had downloaded Grab (they bought Uber in SE Asia), we found taxis weren't that responsive. We did try hailing some from the street but there weren't as many as we had hoped. Luckily we were staying centrally so we walked to many attractions and also experienced a cyclo and motorbike (more on that later!). Our airbnb host organised airport transfers for us which was very helpful.
Day 1 
Morning
We flew with Singapore Airlines from Singapore to Ho Chi Minh, approx. 2 hrs flight.  We were met at the airport by our knowledgeable airbnb host, Alexandre. 30 minutes later we were admiring the views of Ho Chi Minh from our balcony.
Lunch
Highly convenient, we ate at Di Mai Restaurant in the ground floor of our apartment block. Delicious Vietnam fare in a colourful setting.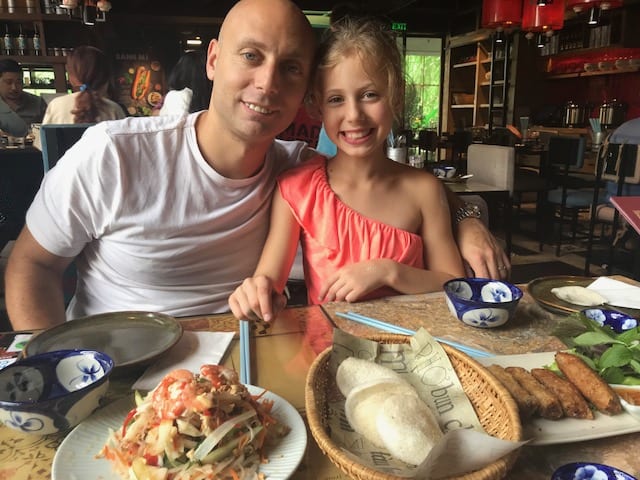 Afternoon
We walked off lunch with a stroll around the neighbourhood admiring the street food sellers and local boutiques. We took a taxi approx. 15 mins to the War Remnants Museum, one fo the city's most visited sights.  I had previously visited as a backpacker around 20 years ago. I remembered the harrowing images of children with deformities caused by Agent Orange.  I wasn't sure how appropriate it would be for children but they have very thoughtfully placed a children's playroom on the third floor.  My husband and I took it in turns to view the exhibitions whilst Jetlag & Mayhem played dress up in the playroom.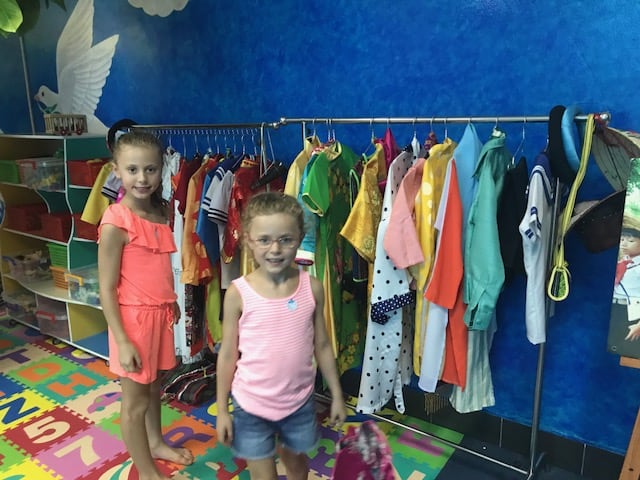 Surrounding the entrance are many military vehicles from helicopters to tanks. There's also an exhibition regarding the prison on Con Dao, which you may want to skip with young kids.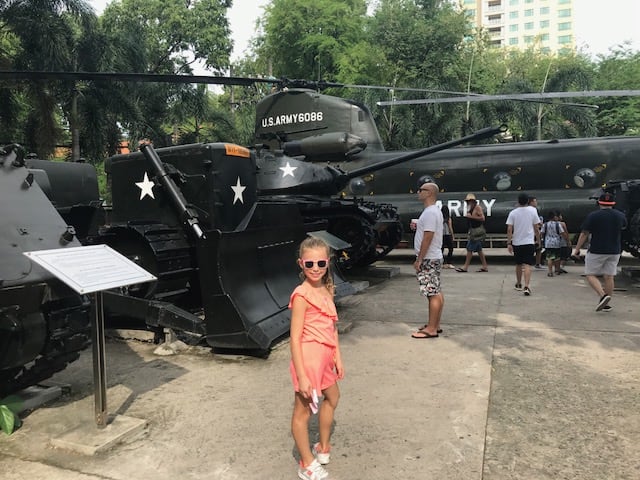 Do take a note of the museum's opening time as it closes during lunch hour.
After the Museum, we were enthusiastically touted by the cyclo drivers outside (three-wheel bicycle taxi that appeared in Vietnam during the French colonial period after a failed attempt to introduce rickshaws).  They took us for a spin around the neighbourhood and dropped us off at Turtle Lake, formerly known as Soldier's Park. There's not much to see here but there a few interesting street food sellers lining the pond.
We returned to our apartment (after devouring an ice cream from Ralf's Artisan Gelato opposite) for some much needed rest and a swim.
Dinner
Of course we couldn't go a whole day in Vietnam without slurping down some 'Phở, a Vietnamese soup consisting of broth, rice noodles called bánh phở, herbs, and meat.  We set off for Pho Quynh which has several locations around the city.  The pho was warming after seeking out the restaurant in a downpour. Jetlag & Mayhem happily munched on fried eggs and a baguette!
Evening's Entertainment
We rounded off the day with a trip to the beautiful Saigon Opera House built in 1898 by the French architect Eugene Ferret. The building itself is beautiful but what awaits you inside is even more magical. We were there to see a show by Lune Production who rotate 4 shows around Vietnam (A O Show being their most well-known).  That weekend the Saigon Opera was home to 'Teh Dar', a show featuring live tribal music, bamboo cirque and acrobatics.  Our ticket price included some drinks and canapes before we took our seats.
I have seen many shows, including Cirque de Soleil but this was the BEST THING I'VE EVER SEEN.  The skill of these dancers/acrobats (in fact I should really call them athletes) is immense.  We were all entranced and there were certain points where our jaws were on the floor.  The show does a beautiful job of bringing to life characters from Vietnamese tribal folklore in an interesting way.
If you are in Saigon for the weekend, you must check out what is playing that weekend and buy a ticket. Best of all, tickets are a fraction of the price compared to similar shows overseas and they also offer a Family Package. We loved the show so much we were tempted to go again the next night but we had already booked an evening foodie tour!